Kings' School Al Barsha celebrates excellent performance in first year of GCSE examinations.
Posted on
24 August 2017
|
Last updated on 30 January 2018
Kings' School Al Barsha students are proudly celebrating some impressive results that have set them up for a confident move into their Sixth Form education and beyond. 
Both Kings' School Dubai and Kings' School Nad Al Sheba preparatory schools feed into the secondary school at Kings' School Al Barsha, allowing students to continue the Kings' experience from ages 3-18. Like Kings' School Nad Al Sheba, the Al Barsha campus was established in September 2014, and is also a preparatory school.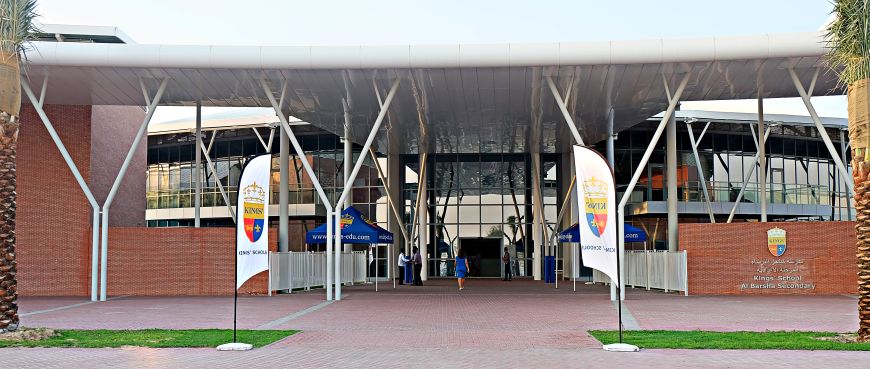 The results are an excellent achievement for the inaugural GCSE level students and proof of the Kings' mission of 'achieving the best by every child'.  
A total of 44 per cent of grades achieved were A* - A, with the overall A*-C pass rate at 92 per cent. 
Students' performance was strong across all subjects, but particularly in English Literature, Arabic and History, with 100 per cent of students attaining A*, A or B grades. Students also excelled in the fields of Drama and Science. 
Alan Williamson, Director of Education at Kings' Schools and Principal at Kings' School Al Barsha commented: "I am extremely pleased that the hard work and efforts of our pupils has been reflected in these outstanding results. Achieving excellent results at GCSE level is a great foundation upon which young people can build future success at A-level, at university, and in their chosen careers."
"These results are a testament to our students' drive, determination, and careful preparation, as well as the caliber of the Schools' teachers. This has given our students the foundation they need to thrive in Sixth Form, and I look forward to seeing their further success at A Level. Our new Sixth Form aims to provide students with a complete and 360-degree educational experience, so that they may graduate as academically successful, well-rounded and mature young adults who are ready to conquer whatever the future may hold," Williamson said.
Excellent results were also achieved by some of the younger students at the school, with 77 per cent of selected Year 10 students achieving the top marks of 8 and 9 in the new and more rigorous Maths GCSE exam. Another excellent Mathematics performance came from Rehman Oomer, Year 8, who achieved an A grade in his Maths AS Level. 
---
You might also be interested in...
---
Kings' Education further reported outstanding performances from individual students at Kings' School Al Barsha.  
High flyers included Michael Kamal Rizk, 16, who with his eight A*, one A and a 9 in Maths, will continue his studies at Kings' Sixth Form, which follows the A-Level programme. He said: "When I received my results I was speechless; I really didn't know what to think. I am absolutely delighted."
 
Rhali Attar, Head Boy, gained an impressive 10 GCSEs, achieving 4 A*s, 4 As, 1 B and a 9 in Maths. In addition, Rhali also achieved an A grade in his AS Level French, which he took a year early, in addition to his GCSE subjects.  Rhali said: "I'm so happy with my results; they're everything I hoped for!"
Millie McElroy gained nine GCSEs: five A*s, three As and an 8 in Maths. Overjoyed with her results, she commented: "I could not have wished for better results and I am so grateful to all of my teachers for their help."
Like Michael, both students have chosen to commence their A Level studies at Kings' Sixth Form.
Kings' School Al Barsha will open for Sixth Form
Kings' School Al Barsha will open for Sixth Form entry to Year 12 in the academic year 2017-18, where students will have a large selection of A Level Qualifications to choose from, including all the subjects presently available at GCSE level. 
Kings' School Al Barsha has a broad and balanced curriculum with appropriate adaptations made to meet the needs of different groups of students, with a strong ethos of inclusion to provide opportunities for all.