A long lasting transformational solution to that tired, stressed and prematurely aged look.
Posted on
5 August 2014
|
Last updated on 30 January 2018
Although not one of the more widely-discussed forms of plastic surgery, it might come as a surprise to learn that eyelid surgery, known medically as blepharoplasty, is one of the most popular. This is due to the fact that the procedure makes such a dramatic difference both aesthetically and functionally, and is therefore frequently recommended to many older patients who request facial rejuvenation treatment. The skin around the eyes begins to droop with age and this can lead to a tired, older and perhaps prematurely-aged appearance. Correcting this can have the same kind of dramatic effect as a surgical Facelift, but with a significantly less degree of invasiveness.
It is interesting to note that many people tend to make a large number of their judgements about a person based on the appearance of their eyes. For example we frequently say that we don't trust someone because they can't look us in the eye. We determine if a person is tired or intoxicated to a certain extent depending on how bloodshot their eyes are. And we make judgements regarding their age based on the skin around their eyes. These assumptions are frequently quite erroneous, but it is nevertheless a common way for individuals to make quick assessments of each other. For this reason, those with drooping skin around the eyes are regularly considered to be older than they are in reality.
To discover the benefits of eyelid surgery, we spoke to Dr Allen Rezai, Lead Surgeon at Elite Plastic & Cosmetic Surgery Group of Dubai Healthcare City, an internationally renowned Plastic and Reconstructive Surgeon, and a specialist in both surgical and non-surgical aesthetic treatments. Dr Rezai explains that "As we age, our skin naturally loses some of its elasticity. This can cause a build-up of loose skin around the eyelids that, in the upper lid, can fold over, producing a hooded effect. In the lower lid the effect may be deepening furrows or creases. Advancing years also result in a weakening of the muscles in our face. This can encourage the fat that naturally sits around the eye, protecting and cushioning it, to protrude through the weak muscle, producing even larger eye-bags. The main benefit of blepharoplasty is a reduction of these eye-bags. This in itself will immediately improve a person's appearance by removing the constantly tired look that they will formerly have had. Also if vision was affected by drooping, puffy eyelids, then following surgery this will also no longer be a problem and the eyelids will be firmer and tighter. Wrinkles will also be noticeably reduced. The overall effect of eyelid surgery is that a person's eyes will look brighter and clearer and, combined with trimmer eyelids, will result in a more youthful rejuvenated appearance. Blepharoplasty patients look fresher and brighter where once they looked tired and stressed."
 
According to Dr Rezai, there are essentially two basic types of blepharoplasty. In the upper eyelids, excess skin and fat can create a heavy looking eyelid, aged appearance, puffiness, and sometimes even block vision. An upper blepharoplasty is performed to remove the excess skin and fat and can also improve vision. A lower blepharoplasty is performed to remove the excess skin, reduce wrinkles, and improve the shape of the lower eyelid by removing skin and fat.
---
You might also be interested in... 
---
Sometimes tightening the eyelid is also needed to correct droopiness or sagging. Upper blepharoplasty surgery uses incisions on the skin to allow for removal of skin and fat. A thin suture is then used to bring the skin together allowing for the creation of an eyelid crease. Lower eyelid surgery can involve skin incisions directly below the lash line or an incision on the inside of the eyelid, known as a transconjunctival approach. The transconjunctival approach allows for access to the eyelid fat without visible incisions, making this technique perfect for patients who need fat either removed or added.
When asked who is suitable for
blepharoplasty
, Dr Rezai explains that "There can be considered to be three categories of patient: firstly, those who have developed excessive eye-bags due to advancing years. Then there are those who have an inherited tendency to develop prominent eye-bags in their early twenties. And thirdly, those who have had significant eye and eyelid changes due to thyroid disease." Dr Rezai advises that before going to see a surgeon, it is important for the patient to consider exactly what it is they are trying to achieve. "In particular, patients should understand that the surgeon will only be removing the skin or fat from the region immediately around the eyes. The operation does not affect wrinkles, creases and folds that are distant from the eye socket itself. However these can be treated by a variety of other procedures, both surgical and non-surgical."
According to Dr Rezai, the procedure itself can be carried out under local anaesthetic alone, local anaesthetic with sedation, or general anaesthetic, and either the upper or lower lids, or both may be operated on during the same operation. Incisions are made in the natural lines of the eyelids, which allow for both skin and fat removal and also conceal the scars. The operation itself takes between 30 to 45 minutes and many patients will return home the same day, others staying in hospital overnight. Usually patients need only a short recovery period after blepharoplasty. Although bruising and swelling is usually worse on the day after surgery, they quickly begin to disappear. Typically patients can expect to return to work within 1 week and resume normal physical exercise within 2 to 4 weeks.
Most people considering eyelid surgery do so for the aesthetic benefits. However the extent of such benefits will depend upon a number of factors, not least of which is the extent of the problems to be addressed. In general, the more dramatic the problem, the more dramatic will be the result. But generally speaking, most patients who have drooping or sagging around the eyes will find that blepharoplasty can produce the kind of results that make a major difference.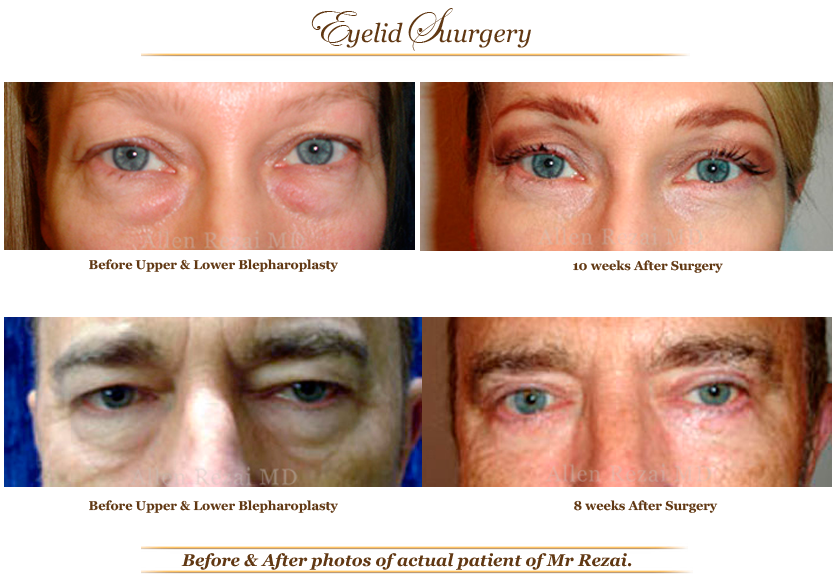 Unlike a facelift, a blepharoplasty is typically long lasting. Dr Rezai explains that "Facelifts are generally affected by gravity, whereas this eye operation is not. For the large majority of patients, the results of blepharoplasty are permanent. Of course, the younger a patient undergoes surgery, the more likely that further eye-bags may develop over time. However as long as the patient has set realistic expectations about the outcome of the operation, then they are very likely to be highly satisfied with the results."
"There is also a non-surgical alternative for patients whose' main concern is eye bags caused by protrusion of the subcutaneous fat under the eyes, and who are not yet ready for the surgical option due to various reasons. A course of radio frequency and ultrasound treatment, usually four sessions, will improve the appearance of eye bags by reducing the fat and tightening the skin through collagen remodeling."
Dr Rezai continues: "However not everyone are good candidates for the non-surgical option and it is important to consult a specialist in order to determine which type of procedure would address the specific concerns of the individual and produce best outcome"
At Elite Plastic & Cosmetic Surgery Group, we offer various surgical and non-surgical treatments for the rejuvenation of the eye region and improvement of dark circles around the eye. For more details concerning Eyelid Surgery and other surgical and non-surgical rejuvenation procedures or to book a Consultation call +971 4 431 2396.