EW's Nese had the opportunity to try out Elite Plastic & Cosmetic Surgery Group's PRP Skin Rejuvenation treatment recently...
Posted on
9 December 2015
|
Last updated on 10 November 2019
When I was first offered the chance to review the PRP Skin Rejuvenation treatment, I have to be honest... I wasn't quite sure what I was agreeing to! All I knew was that it was something that would help the signs of aging and wrinkles, and so I was happy to try it.
This treatment is nicknamed 'the vampire facial', but after some research I quickly realised that it of course, had nothing to do with vampires and isn't what celebrity Kim Kardashian had done. Instead I learnt that PRP is the abbreviation for 'platelet-rich plasma', which stimulates, regenerates and recovers aging facial tissue in order to reduce wrinkles and improve skin tone. 
The lovely ladies at Elite Plastic & Cosmetic Surgery Group first gave me a call to book an appointment with Dr. Allen Rezai M.D., which was followed by an email confirmation with pre and post treatment instructions for PRP. 
Feeling excited, I arrived ten minutes early for my treatment, and was warmly welcomed by the lovely assistant Nina, who gave me a form to fill in so I could answer general questions about allergies, previous treatments, medication and what not. 
Dr. Allen Rezai M.D. then greeted me with a warm smile and lead me into the consultation room. Dr. Allen asked me if I had ever heard of PRP treatment before, and so I explained that I had done some research into it but was still unsure of the benefits of the procedure and method. 
He explained that PRP 'platelet-rich plasma' is the platelets in our blood (the clear/yellowish fluid) and gave examples that when we cut ourselves by accident, and our wound is healing, we have clear yellowish fluid that forms a crust on the wound, and then the tissue begins to heal underneath. I knew what he meant, as I remembered when I've previously squeezed a pimple, when the first infection is out of your skin, you always get a little blood that comes out and then a clear fluid. Well, this fluid is the platelets that repairs our tissue and naturally heals. 
---
You might also be interested in:
---
Therefore, as part of PRP, some blood is extracted from you and then the platelets are separated from your blood, which are then reinjected back into your skin. As an individual who has had botox done in the past, it was not a scary experience to have injections, in fact this was so much easier as numbing cream was applied to my face first! Dr. Allen Rezai M.D. also mentioned that some slight bruising can be experienced afterwards, and some redness. But as you can see from my photos, my right cheek has no redness following the injections. 
This treatment is done once every 4 - 6 weeks and usually you can see and feel a differenc after the 2nd or 3rd session, so I can't wait to see the difference and will continue to take photos and review the stages. 
After my consultation, I was then taken into the treatment room where a very friendly nurse came into extract the blood from my arm. I did however warn the nurse that my veins are not the best, as they are quite hard to find in my arm. But nonetheless, on the first attempt... Bingo! She extracted seven small tubes of blood, and then my face was cleansed by the assistant and numbing cream was applied while I waited twenty minutes for the next stage. 
Dr. Allen Rezai M.D. then came in and asked me if I was okay? He had my platelets ready in small injectors. As he began my procedure, I realised that with both the cream and the very light touch of Dr. Allen, I felt no pain or discomfort from the beginning to end. 
He completed one side of my face, and then swiftly moved onto the other side as the assistant held an ice-pack against my face... Again, this was not uncomfortable. 
Once finished, Dr. Allen explained all of the post treatment steps, what to do, and what not to do but all are very easy and straight forward; not to touch, press, rub or manipulate the treated area(s) for at least six hours after your treatment, and if I had any pain to take paracetamol but not Aspirin, Motrin or Ibuprofen. 
After everything was done, I was then given my appointment for radio frequency 10 days after the PRP (stay tuned!) 
The following day, Nina kindly called me early in the morning to see how I was feeling and to see if I had any bruising. A very, very slight bruising was on my cheek, but I knew it was there despite no one noticing, even when I pointed it out to them!
---
Session #2!
This was my 2nd session of Radio Frequency at Elite Plastic & Cosmetic Surgery Group. We have combined the Radio frequency with PRP.
 
My first session of Radio Frequency conducted by the friendly Levin and started with a update on that I may feel some heat / warmth during the procedure but to let her know if I feel any discomfort during the process.
Levin also told me that the treatment results can be seen a month or so after the treatment has ended. I was sent through a Do & Don'ts before the procedure. The main do is to drink lots of water before and after the treatment.
 
The effect of the radio frequency treatment is the stimulation of increased collagen and elastin production as well as increased blood circulation.
 
The results in overall skin rejuvenation working hand in hand with my PRP treatment. So far as face treatments, radio frequency treatment has become known as the "Radio Frequency facial", due to its wrinkle reduction and overall skin rejuvenation capabilities.
Dr Allen Rezai had asked Levin to concentrate on my jaw line area to give more definition.
 
So into the Procedure room we go! We took photographs and will keep you ladies updated with results. A small sticker was placed on my back which allows the frequency to work. My face was cleansed and a cool gel was applied to my neck area and the treatment began! The best and only way I can describe is for those of you that have had an Ultrasound, its exactly the same feeling with a bit of warmth. So from the neck area to my cheeks and then eye area. A super relaxing feeling, like a facial in a spa but without the dimmed lights but we had nice soft music playing in the background. I must confess that on the cheeks procedure I slept! The eye area at first feels funny as you have gel applied and you keep thinking its going to go in my eye but honestly it doesn't!
RF face treatments are conducted in a 60 / 90 minute session, usually a series of some four to eight treatments is recommended, one to three weeks apart. No recovery time is needed after a radio frequency treatment! You can just get up and go on with your daily routines. My sessions have been a week apart and will be taking photos to keep you ladies updated. I will attend another three sessions of PRP treatment.
On my second session I asked Levin what the strength was used on my first treatment and she said only 80% so this time we upped the strength to 100% on the cheek area. The neck and Eye area she kept at 80% as its thinner skin.
Results become apparent immediately but their maximum effect is visible some two months after the treatment cycle is over.
---
Session #3!
Today I had my third treatment of Radio Frequency at Elite Plastic & Cosmetic Surgery Group, so nice to walk in and see friendly faces with big smiles. 
Levin was ready for me and off to the treatment room we go. First we take photographs of before and will take some more during and I'd also like to share some photographs of straight after the treatment so you can see that there is no redness. Levin asks me how my skin feels and how I felt after the last treatment as we used a higher degree than the first treatment. I explain that my skin does feel much tighter and that the bags under my eye area seem much less, especially to the outer corners the skin is much more smoother and there are less wrinkles.
I have had compliments over the weekend from friends that didn't know my age thought I was 38ish! Some very shocked faces when I told them I was 43 closer to 44 now!
So the treatment starts, this as I said is my third treatment  and now have one more left (sad face). I so enjoy the relaxing time and the warm massage of the Radio Frequency. We start with the neck and the cool gel is applied and we begin! My advice to women is to count the beeps that the Exilis Elite machine makes as this is like counting sheep and before you know it you start to relax more and more with the soft background music.
This time I have asked for photographs to be taken especially when the eye area is being done and would like to explain that although there is a blue light you do not see this at all and that the gel does not seep into your eye at all. 
Although I am having this treatment done on the neck and face this can be used on multiple parts of the body such as Abdomen, Love handles, back (bra strap fat)  buttocks and many more.
This time the treatment on my cheeks seems like there is less fat on them this is the easiest way I can explain. We have used the same strength as last time 100% on the cheeks and less on the neck and eye area.
For more information on the Radio Frequency please also see this page.
---
Session #4
My Radio Frequency session following my PRP 2 weeks ago with Dr Allen has now come and I really enjoy coming here as it's a time where I can just switch off from the manic day, and just relax with the warmness and massage of the Radio Frequency on my face and the calm music.
The girls at the reception at Elite Plastic & Cosmetic Surgery Clinic tell me I look radiant and very well, when I tell them I've had a few sleepless nights and crazy work days they cannot believe me. Im sure it's the PRP and the Radio frequency that is making me look so well my skin is glowing! Although I feel tired my face does not show it! I warn Levin that I will fall asleep!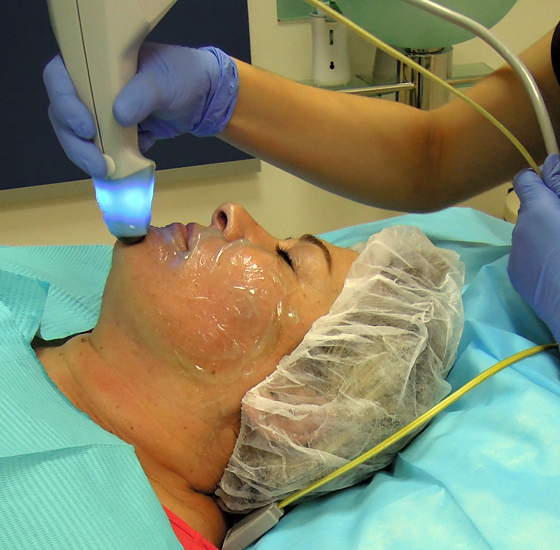 We go into the treatment room and photos of before are taken and the cool sticky patch is put on my back. Ive been so busy that I haven't even removed my make up like I do before but Levin cleanses my face and removes my eye makeup for me. The feeling is exactly like having a facial done, makeup off, face cleansed and then the treatment of Radio Frequency starts. We measure my neck and its 39cm when I first started the Radio Frequency treatments I measured myself at home and it was 42cm! Tt has reduced by 3 cm! 

Levin starts with the left hand side of my neck and asks me if  the heat is ok and to let her know if it gets too hot. The bleeps of the machine and warmness is very comforting to me as I count the bleeps and like counting sheep I can feel myself starting to dose off. 
Onto the left hand cheek, remembering what it used to feel like on my first and second treatments done it was like a spongy feeling now I feel if there is less fat and no more spongy feeling, Its like the fat is less on my cheeks.
Levin now mores to the left eye and I instantly notice that its not the same as previous treatments. She has only applied the gel to my outer eye area and upper brow. I ask her are we doing a different area she replies that this is the area that Dr Allen has now told her to concentrate on. 
Moving to the right side of my neck, cheek and eye I think I feel asleep on the neck area! Next Levin says she will do an extra treatment on the area which is just under my chin. As it's a smaller area I may feel the heat more quicker. I must have a lot more fat here as I don't feel a thing its just like my first treatment the spongy feeling. I am sure by the next upcoming treatments this will no longer feel like this! 
All done the treatment comes to an end and I am now so relaxed, as if I have just come out from a spa treatment! Levin cleanses my face with some water to remove any residue of the gel and applies moisturizer to my face. 
---
Session #5
My second PRP treatment with Dr Allen Rezai, walking into the Elite Cosmetic has now become like walking into a friends home, the lovely girls are very friendly and welcoming.
 
Filling up the form to see if I have had any medical problems since my last visit which nothing has changed I am then greeted by Dr Allen and guided through to the consultation room. Dr Allen with asks me how my Radio Frequency treatments have been going and if I feel and see any change in my skin. I feel a more radiance in my skin it doesn't look tired as much and more plump is the word I would like to use. My jawline has certainly improved resulting in a more distinctive jawline. 
Dr Allen talks me through the following treatments that will be done, I will have after this PRP treatment another 2 and in between some more radio frequency treatments. He advises Levin to still concentrate on the jawline and the eye area.
I am then guided through to the treatment room and a numbing cream is applied to my cleansed face. The lovely lady with the huge smile then comes in to take some blood from my inner arm, again first time and shes in to the main vain. As ive explained before my veins are not the easiest to find and are not visible to the eye. 6 tubes of blood later my blood is then taken to have the Plasma separated from the red blood cells. A quick 15-20 minutes later the needles with my plasma is back in the room with me. 
 
Dr Allen starts the procedure and explains to me kindly again that he is starting on my cheeks because of the numbing cream and the micro needle I feel nothing at all! I realize that he has injected my face only because he is now switching needles. 
The injections are applied to both cheeks and jawline and under jaw and he is now going to apply them to my eye area. He tells me that this may be a bit sensitive but I feel nothing again he is so light handed that its only when the needles are being swapped that I realize that its done. Then my upper lip area, again no pain at all, a combination of the light hands and numbing cream is wonderful. I'm told I have a high pain tolerance, I say I have no tolerance to pain at all! 
After the procedure is finished arnica cream is gently applied to my face buy the lovely Levin this is to stop any bruising if any. Dr Allen tells me that I can carry on apply makeup onto my face but no vigorous sports for tonight and to sleep with my head a bit more elevated using two pillows, I always sleep with two pillows usually so nothing different for me to do. 

Just before leaving Elite Plastic & Cosmetic Surgery Group I book my follow up radio frequency treatments and my next PRP  treatment, although it's a bit in advance I am sent a reminder by email so no chances of me forgetting.
The following day my face looks and feels the same as the day before no bruising at all! I get a call from Levin at Elite Plastic & Cosmetic Surgery Group clinic to ask how my face is and if I have any questions or bruising…Happy to say nothing at all, see you in my next session of radio frequency. :) 
---
THE BEFORE AND AFTER SHOTS!