Paediatrician from Mediclinic Deira and Welcare Hospital shines light on the benefits of vaccination for kids and adults...
Posted on
4 September 2019
|
Last updated on 5 September 2019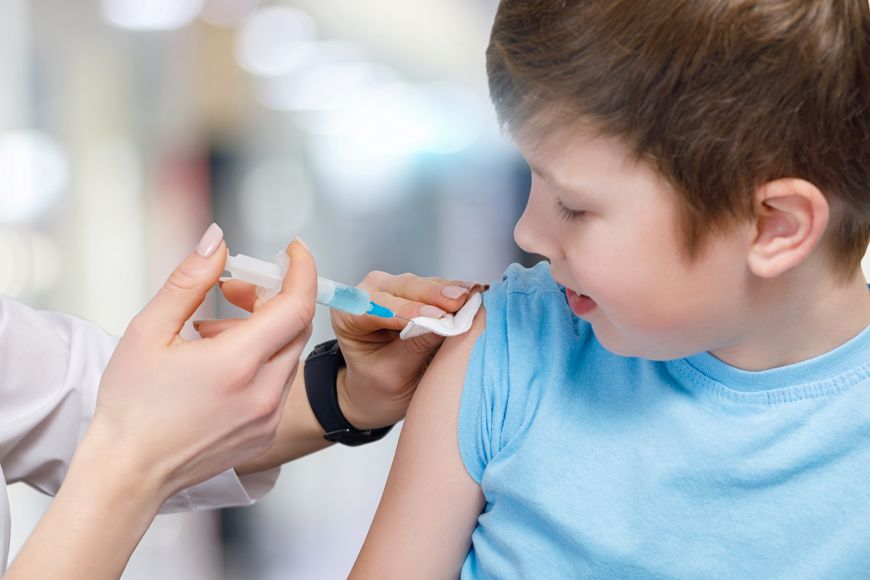 Schools are reopening their doors and our kids will soon join other children at their new classes.
Summer vacation is almost over but unfortunately with the excitement of a new school year comes the reality of being exposed to various kinds of germs and viruses as part of daily school life and activities. This again reminds us of our main responsibility, as parents to provide our precious ones with maximum protection against such germs and viruses. As always, first and foremost comes Prevention.
The best Prevention we could recommend beside hygiene is immunizations/vaccines.
Vaccines boost the immune system and prevent serious, life-threatening diseases. Immunizations have protected millions of kids from dangerous diseases and have being credited with saving thousands of lives.
Vaccines teach the human body how to fight viruses and germs by exposing their secrets to its immunity system, so if they later attack the body, it finds itself ready to fight them back and to prevent diseases from spreading.
Vaccines manage to carry this amazing task by exposing our bodies to a very small and safe amounts of viruses or bacteria that have already been weakened or killed. Our immune systems then learn how to recognize and attack infections if, and when, we're exposed to them later in life. As a result, we avoid many illnesses or we may only experience milder infections. This is the natural way of dealing with infectious diseases.
Through vaccines, the human body fights diseases by making antibodies that recognize specific parts of the germs that cause them. This permanent or, at times, longstanding response means that if someone is ever exposed to the actual disease, the antibodies are already in place and the body knows exactly how to combat it saving the exposed person from getting sick.
There are several kinds of vaccine's mechanisms to accomplish the above mentioned mission:
Live virus vaccines use the weakened (attenuated) form of the virus. The measles, mumps, and rubella (MMR) vaccine and the varicella (chickenpox) vaccine are good examples.
Killed (inactivated) vaccines are made from a protein or other small pieces taken from a virus or bacteria. The whooping cough (pertussis) vaccine is an example.
Toxoid vaccines contain a toxin or chemical made by a bacteria or virus. They make us immune to the harmful effects of infection, instead of the infection itself. Examples are the diphtheria and tetanus vaccines.
Biosynthetic vaccines contain manmade substances that are very similar to pieces of the virus or bacteria. The Hepatitis B vaccine is an example.
Vaccines are the best weapon we have in our disposal to fight some of the most dangerous diseases in our continuous attempts to keep such danger from our kids, yet the question of whether we should or shouldn't use them keeps coming back.
As God created us, soon after birth, babies get protection from several disease through the mother's antibodies which are passed to their blood through the placenta during pregnancy; a protection that lasts only for few weeks after birth, which is why the first on of a child's immunization schedule must starts at 2 months old(some vaccines before that).
SEE ALSO:Here's Why Itching During Pregnancy is Normal
It is extremely important to follow the immunization schedule as recommended by your doctor, for each time your kid gets his or her vaccine (although it is little bit painful), their immunity system gets booster against the targeted diseases. And by doing so your child will be protected at a percentage of 85%-99% from many diseases, including life threatening ones.
Some people worry that vaccines may not be safe enough or think that they can even be harmful, especially for small children. They should speak with their health care provider about their worries. Some choose to wait or make the decision to even not have their child's vaccinated. It should be noted however that the benefits of vaccines far outweigh any possible risks.
The American Academy of Pediatrics, the Centers for Disease Control and Prevention (CDC), and the Institute of Medicine all agree. They have concluded that the benefits of vaccines outweigh their risks.
It must also be mentioned that numerous studies have found no link between vaccines and autism (a developmental disorder that's characterized by mild to severe impairment of communication and social interaction skills).
Finally, I'd like to remind you that the influenza (the Flu) season is coming soon, and for this nasty sickness, we have a vaccine as well (The Flu vaccine) which will be available at the end of September 2019 or before. So don't hesitate to vaccine yourself and your kids; my personal recommendation is to vaccine everyone 6 months old and above as influenza attacks mostly children below 19 years old. I wish everyone a happy and safe new school year.
Authored by Dr. Taref Alabed

Consultant Paediatrician at Mediclinic Welcare Hospital and Mediclinic Deira