Better constructed and optimised, here's Kärcher multi-purpose vacuum features at a glance.
Posted on
4 September 2017
|
Last updated on 26 June 2018
In the UAE's challenging climate, mould, dust and direct sunlight can quickly damage outdoor areas – and that's before the kids even wake up. Whether the surface is dry or wet, coarse or fine, Kärcher multi-purpose vacuum cleaners remove all dirt - even large volumes of water – and are ideal for car, garage, basement, workshop, renovations and around the house. 
 
To make the cleaners the most versatile they can be, an extensive range of accessories for daily use such as nozzles, hoses and filters are designed to work together in the best possible way, meeting the demands of any difficult to reach area or stubborn stain. 
 
Kärcher offers an extensive and useful range of accessories for daily use with its multi-purpose vacuum cleaners. From the right floor nozzle and the appropriate hose to specialised filter systems, all the components are designed to work together in the best possible way.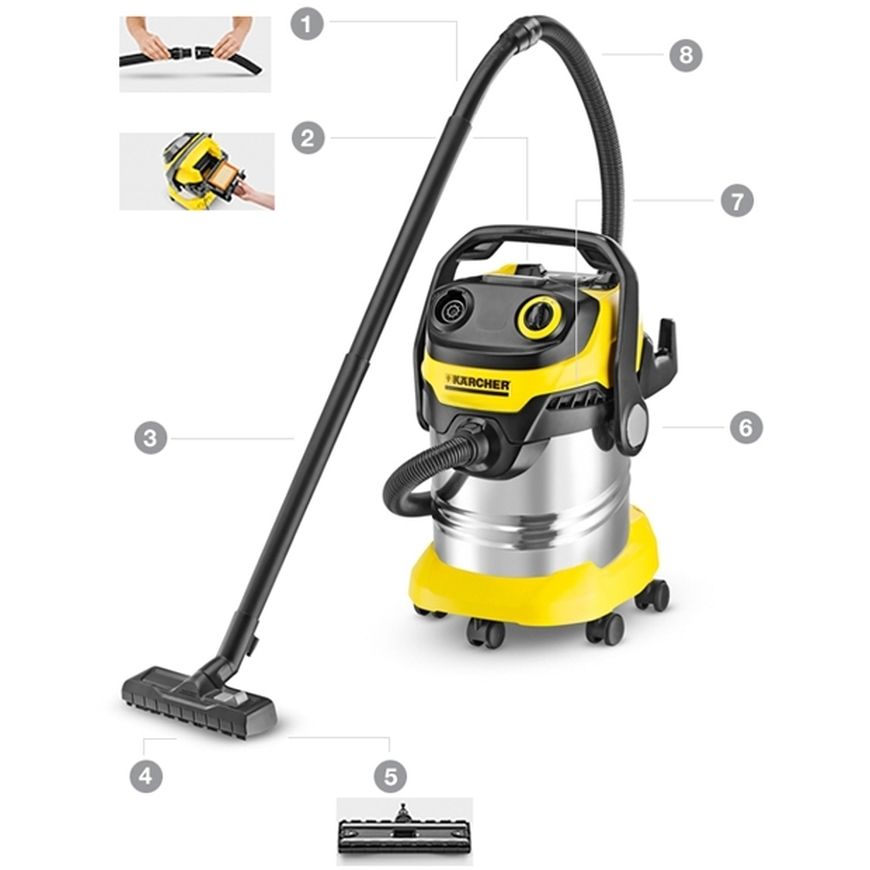 In this way, the multi-purpose vacuum cleaners can meet the specific requirements of the location in which they are being used and ensure outstanding cleanliness in all areas. 
 
Better constructed and optimised. Kärcher WD vacuum features at a glance. 
1. Removable handle
The ergonomic handle can be easily removed from the suction hose in order to attach other accessories such as nozzles.
 
2. Easy filter removal
Patented innovative technology makes removing and emptying the filter quick and easy, avoiding any contact with dirt.
3. Extremely durable
Robust, long-lasting plastic suction tubes.
 
4. Optimal dirt pick-up
Use the switches to adjust the nozzle to suit your vacuuming needs (dry or wet vacuum cleaning).
5. Effortless working
Lateral rollers guaranteeing smooth and effortless movement.
6. Completely Airtight
Better sealing between the container and the vacuum head, together with an improved connection between the hose and the container, ensure that the vacuum cleaner is much more airtight. This prevents unwanted air from being drawn into the vacuum cleaner, keeping the power inside the device. The result? Outstanding suction power.
---
You might also be interested in...
---
7. More efficient motors
Our vacuum cleaners have been made significantly more efficient thanks to their improved motor design. This means that they provide more powerful suction whilst at the same time consuming less power.
8. Optimal air flow
The highly flexible suction hose comes with a wider opening to avoid blockages while vacuuming. Flow resistance is significantly reduced by the improved hose geometry.