Review: Savour Thai Authentic Flavors in a Clay Pot at Benjarong Dusit Thani
EW team decided to try out Benjarong's amazing Clay Pot promotion for the month of December and it didn't disappoint.
Posted on
11 December 2018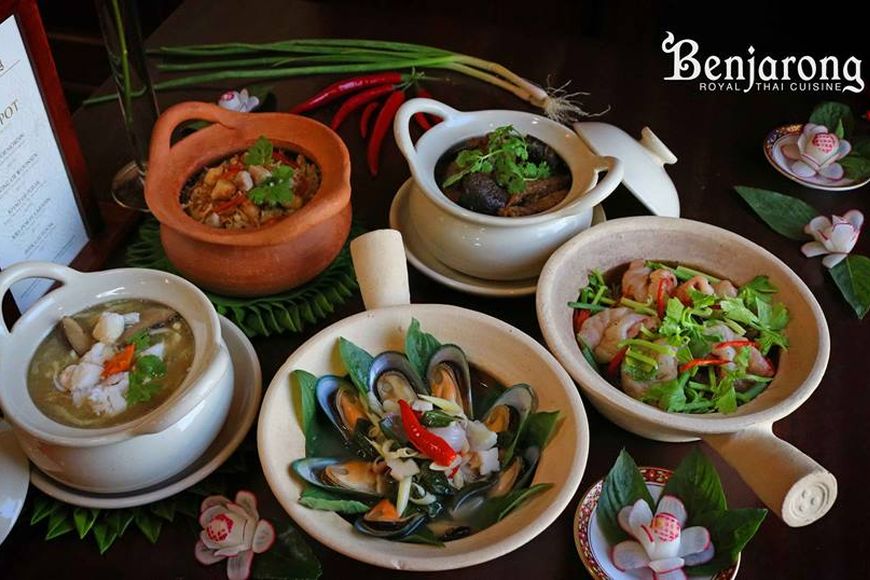 Are you looking for an authentic Thai Cuisine? Head over to Benjarong at Dusit Thani this month and indulge yourself to Benjarong's Clay Pot promotion while enjoying the amazing Dubai skyline. You can enjoy this amazing offer until December 30th only.
We tried the food out ourselves – and we highly recommend!
Known for its multiculturalism, Dubai is a melting pot of cuisines and if you are craving for Thai food, it's easy to spot a restaurant claiming to serve the best Tom Yam and Pad Thai. But nothing comes close to the authentic and flavourful taste of traditional Thai cooking not until we experienced the amazing food served at Benjarong at Dusit Thani Dubai.
Convenient Location
The award-winning Thai restaurant is located on the 24th floor of the five star Dusit Thani hotel. Situated in the heart of Dubai, it's easily accessible via Sheikh Zayed Road with free parking at the back of the hotel. It's also just 15 minutes away from the airport and within walking distance from DIFC metro station.

Amazing Ambiance
The moment we stepped into the restaurant we were instantly transported to a classic Thai banquet hall. Greeted by the majestic interiors and the gentle classical music from a trained Thai musician, we felt like we're about to attend a royal Thai wedding. The dimly lit hall and the intricately designed pillars further added to the authentic Thai dining experience that we were about to embark.

Warm Hospitality
We were welcomed by the staff with their traditional greeting "Sawa dee ka" that made us smile. The Assistant Manager Sunny, with her genuine and warm personality, made sure that we felt at eased and comfortable. She was very attentive all throughout the evening, she gave us recommendations and patiently answers questions that we have on the menu as there were so just so many delicious options to choose from. She gave her suggestions from appetizer to dessert and when we were finally satisfied with what we've ordered, all we needed to do was wait.

Authentic Thai Cuisine
While we were waiting for our orders, we entertained ourselves with the amazing view of the Dubai skyline and did I mention that there was a live traditional Thai dance performance? We didn't have to wait for long as our orders arrived in ornately decorated ceramic plates, the food colour and aroma were unmistakably flavours of authentic royal Thai cuisine.
For appetizers, we were served the traditional Khow Greb Goong which is prawn crackers served with roasted chilli oil and Goong Hom Sa Bai or deep fried shrimp roll wrapped in rice paper and served with sweet plum sauce. We know it's just the starter but we just can't get enough of its deep flavours.

Goong Hom Sa Bai
For the salad, we opted for Som Tum Thai which is made of shredded unripe papaya, the long beans and carrots provided the crispness and though we went easy on the chilli, it still has the fiery explosion of taste in the mouth. The combination and balance of all four an – sour, chilly, sweet and salty further whet our appetite.

Som Tum Thai
Of course, a Thai dining experience will not be complete without Tom Yum, a chicken or shrimp-based hot and spicy soup with a concoction of mushroom, lemongrass, fresh chilli, and roasted chilli paste flavoured with lime juice. This signature Thai dish really defines what Thai flavour is all about, the distinct and aromatic taste of the soup left us wanting for more.

Tom Yum Goong
SEE ALSO: Festive Giveaway: Christmas Brunch at Dusit Thani Dubai
For our main course, we ordered none other than the classic Pad Thai, this Thai style fried noodles is so flavourful and the harmony of tofu, bean sprouts, ground peanuts and tamarind sauce was just perfect to the taste. Also, the good thing about it is that you can add your choice of vegetable or egg, prawn and chicken.

Pad Thai
Clay Pot Promotion
We took our journey further to Benjarong Royal Thai cuisine by treating ourselves to one of their Clay Pot dishes – the Hoy Ob Morbin or mussels cooked with Thai herbs in a clay pot and we can tell you it didn't disappoint! It has the freshest taste that definitely pleased our palate. Don't take our word for it just head over to Benjarong this December and treat yourself to five of the finest Thai delicacies cooked and served exclusively in a Clay Pot.
Hoy Ob Mordin - Mussel with Thai herbs in clay pot AED 68
Goong Ob Woonsen - Baked prawns and glass noodles in clay pot AED 105
Khao Ob Pueak - Baked fried rice with Thai taro and chicken AED 65
Kra-por Pla Modin - Fish maw soup in clay pot AED 78
Peek Gai Toon - Chicken wing soup with shitake AED 75
Book now! The promotion is valid until the 30th of December, 2018 only!

Hoy Ob Mordin
To wrap up our meal, we ordered Khaoniao Mamuang or mango sticky rice for dessert, this dessert is made up of sweetened coconut milk flavours with a generous amount of sticky rice and fresh sweet mango which is the perfect way to end our gastronomical experience. Heavenly is the only way to describe the classic Thai dessert.

So the next time you want an authentic Thai food adventure, go to Benjarong Dusit Thani as they have everything that Thailand has to offer, plus they have a private room (with an amazing view of Burj Khalifa and the Dubai skyline) if you want to enjoy a moment of privacy while you experience traditional Thai dining in the heart of Dubai.

To start your journey to Benjarong Royal Thai cuisine simply tap 'show number' or 'click to contact.'