Discover a Thai Experience And More at Dusit Thani Dubai
From Thai cooking classes to Friday Brunch and themed night buffets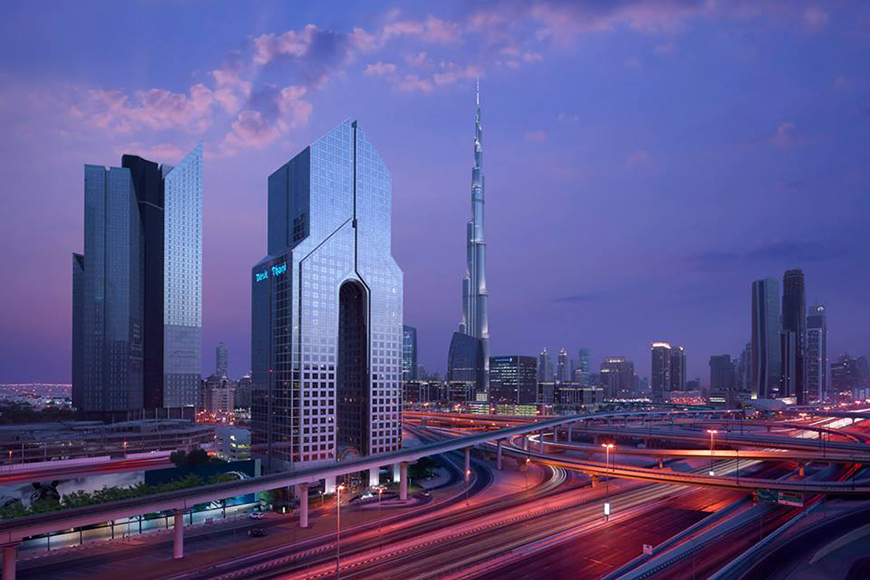 Capturing the essence of Thailand, Dusit Thani Dubai is a 5-star luxury hotel with a myriad of culinary offerings all year round. The hotel has seven dining and entertainment outlets which host everything from Friday Brunch to Themed Night Buffets, Happy Hour and Thai Cooking Classes, as every discerning palate has something to anticipate.
Themed Nights
The week is packed and so is your appetite, be lost to culinary classics every night with The Californian Restaurant's Themed Nights.
The journey starts every Sunday with pungent Indian fare for Tandoori Night, feast on all things Mexican every Monday, grill 'em barbecue New Orleans style every Tuesday, embrace Southeast Asian flavors every Wednesday, plunge those palates into the Deep Blue Sea every Thursday and cap off the week with dishes Around the World every Friday.
Price: start at AED 175 per person
When : Sundays-Wednesdays and Fridays: 7pm – 10.30pm, Thursdays: 7pm – 11.30pm
Friday Brunch at the 24th Floor
With different kinds of Friday Brunch sprawling around town, treat yourself to the brunch that started it all.
Since 2006, Dusit Thani Dubai's Friday Brunch has always been a go-to place for discerning palates in search for a relaxed yet chic ambience. Anticipate a widespread of great selections from the hotel's three specialty restaurants, picturesque views of the grandiose Burj Khalifa and Downtown Dubai, and cultural Thai performances.
Price: starts at AED 239 per person
When : Fridays: 12.30pm – 4pm
Seal that Coveted Deal
Dusit Thani Dubai's specialty restaurants give you two options for your next business lunch.
Treat your clients to a sophisticated Italian lunch at PAX Ristorante or indulge in an authentic royal Thai cuisine at Benjarong Royal Thai Restaurant.
Price: AED 85 per person for two courses, AED 105 per person for three courses

Thai Cooking Class With the Chef to the Royals
The hallowed halls of Benjarong's kitchen are open to all Thai cuisine enthusiasts every second Saturday of the month. Be in awe of the techniques from Chef Naruemol Poolkuan that swayed the royal palates.
Price: AED 250 per person
When : Prior reservations required
Gourmet food with a View
A terrace lounge nestled in between Downtown skyscrapers serving Jones the Grocer's award-winning menu, an array of beverages and shisha flavours. View is located on the ground floor level, adjacent to jones the grocer.
When : Daily, 4pm – 2am

Live Jazz Wednesdays
Jones the Grocer at Dusit Thani Dubai has set the ambiance every Wednesday for your wine and cheese night— now with one of Dubai's favorite jazz bands— Veronica Vintage Jazz Duo.
On Wednesdays, it serves unlimited house wine or beer and a selection of cheese and charcuterie for only AED 199.
Price: AED 199
When : Wednesdays: 8pm - 11pm
After Hours at Nippon Bottle Company
Marvel on this Izakaya's urban myths with your girlfriends and enjoy three complimentary house beverages every Sunday.
Every Wednesday, the men are entitled to an unlimited selection of house beverages for AED 169.
And from Tuesdays – Sundays, join our resident DJ as she plays your favourite tunes, 8:30 p.m. onwards.
Blissful Beginnings
The wedding bells are ringing and it all points to Dusit Thani Dubai.
Waltz through the most romantic moment of your life with ease as the Dusit Events team sets before you well-thought of packages that will cut the hassles off your planning process.
Meeting of the Minds
Meetings. Conferences. Exhibitions.
Great things happen when great minds come together.
Our dedicated Events and Banquet team shall make sure you have a seamless event from planning to execution.

A Journey of Simple Harmony
Namm, pronounce "narm", is a Thai word that signifies "water" – the most essential element of life that offers so many healing applications both inside out and outside in.
Relax, revitalize and enhance your well-being at Namm Spa. Each specialized treatment is designed to pamper your senses and redefine your inner balance and outer beauty. The serene minimalism of the ambiance, the intoxicating aromas, and genuinely caring therapists, will make every visit truly memorable.
Splash Sundowners
Don't let the soaring temperature lose your cool. Dive into the pool and paddle your way to a haven of fruity coolers, mixes, and spirits every sundown at Splash.
Relax to the stunning views of the famous Burj Khalifa and Downtown Dubai.
When : Daily, 5pm – 8pm