Review: Sophisticated Street Food at 24TH St.
Full of flavour, fun and Insta-worthy moments, here's why we recommend Dusit Thani Dubai's new venture
Posted on
4 December 2018

Ready to wander through the streets of Asia and battle for the last bite of Korean bulgogi beef, the EW team were super excited to experience Dubai's newest street. Spoiler alert, it didn't disappoint.
Aiming to re-create the street foods of Asia, Dusit Thani has brought the concept of an Asian hawker into the heart of Dubai. Located on the hotels 24th floor (hence the name), 24TH St. is inspired by the bustling roadside stalls, food courts and dining centres of Korea, China, Japan and India, with food to try from each destination.
We were welcomed into the restaurant already smitten with the smell of authentic cuisine and in awe of the surroundings. It wasn't like stepping into the Asian hawker scene in "Crazy Rich Asians," nor did it replicate a traditional street food setting: it was better.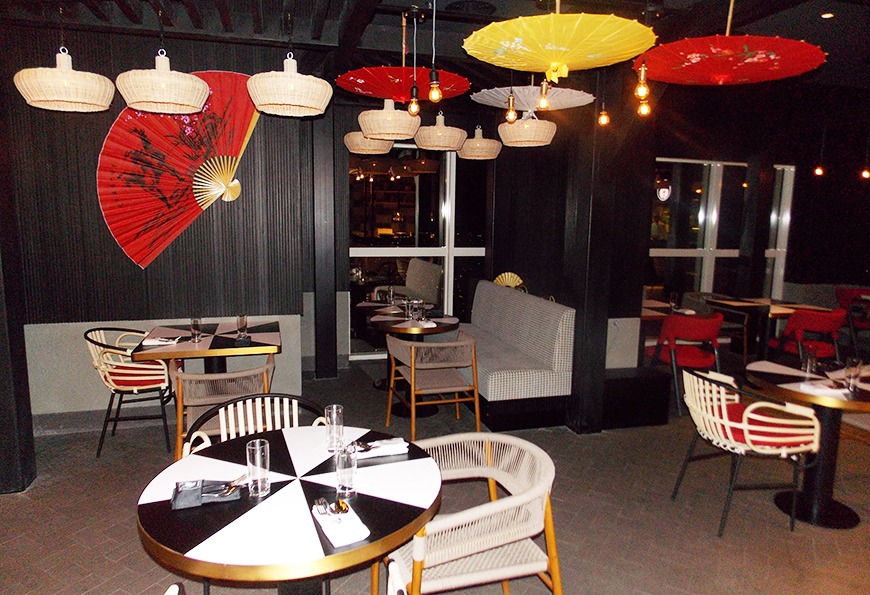 The chic contemporary décor took inspiration from Asian street-style, but created a new space that was perfect for its five-star setting.
Parasols hung from the ceiling, there were illuminated signs, cool murals and lit street lamps that built a vibrant ambience and made for many Instagrammable moments (there's more to come). Even the chopsticks had playful puns to start the fun, "Wasa, bae?"

Each kiosk had its own signature style, each kitchen was authentically open –but the incredible views of a glowing Sheikh Zayed Road and Burj Khalifia made us remember we were in Dubai and not in East Asia.
Now on to the food…
We weren't left hungry for long as food comes out when it's ready –which means there's a constant flow of exciting and fresh dishes. Diana attended to us throughout the evening and helped us to select the best dishes on the menu –there are so many great options to choose from, so we needed some guidance.

Beef Galbi Skewers
First up were the starters, which included the Beef Galbi Skewers from Kim's Korean that could have come straight from the streets of Seoul; they were tasty, tender and full of flavour. We also sipped on Hot and Sour Soup from Lucy Wong's (Chinese) and admired the impeccable artistry of the sushi from Momo San (Japanese).

Sushi from Momo San
For our first taste of Indian street food, we were introduced to Pani Puri Shots from Chatakana which we filled with tangy water and ate in one quick mouthful –they were delicious!
By far the most Insta-worthy dish was the Baked Cod Fish in Orange –it was cooked to perfection and looked amazing.

Pani Puri Shots

Baked Cod Fish in Orange
Time for the main course...
We recommend sharing dishes –so you can sample a taste of everything. Despite being well-fed from the delicious array of starters, we were still eager to try even more new flavours.
The Korean Bulgogi Beef is a must try, whilst the Singapore Laksa Noodles from Lucy Wong's were also fabulously flavoursome.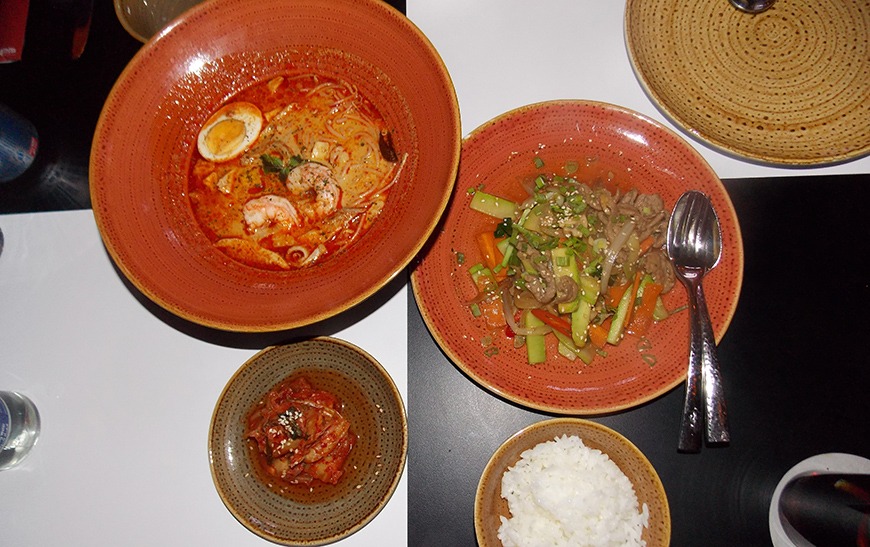 Singapore Laksa Noodles and Korean Bulgogi Beef
We dipped into the Lamb Rogan Josh curry that was melt-in-your-mouth meat, spiced to perfection –alongside cheese naan. The curry was filled with authenticity, and is arguably our best curry in the city.
Squeezing in just one more dish, we had to try the Stir Fried Beef Cube with Black Pepper Sauce –and we're so glad we did. We hate to be generic, but it was another moment for the 'gram. Beautifully decorated, delicious and destined for likes, this dish is so unique and tastes yummy too!

Stir Fried Beef Cube with Black Pepper Sauce
Just enough room for dessert!
To finish the meal we indulged in Japanese Cheese Cake, paired perfectly with Chinese Tea as we watched the bright city lights and reminisced over all the different dishes we'd tried.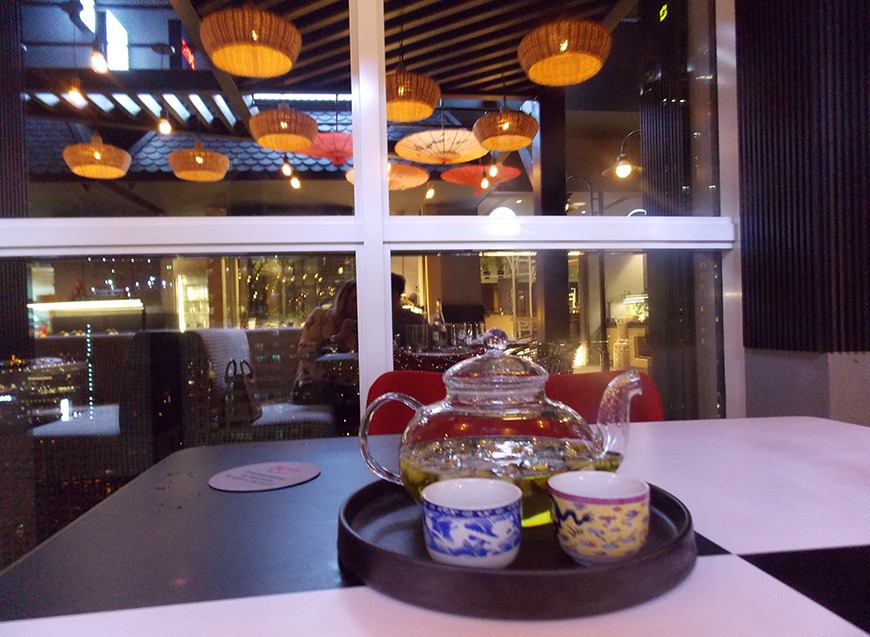 The dessert was surprisingly light and fluffy, without being too sweet or sickly, which we needed after our Asian street-food feast.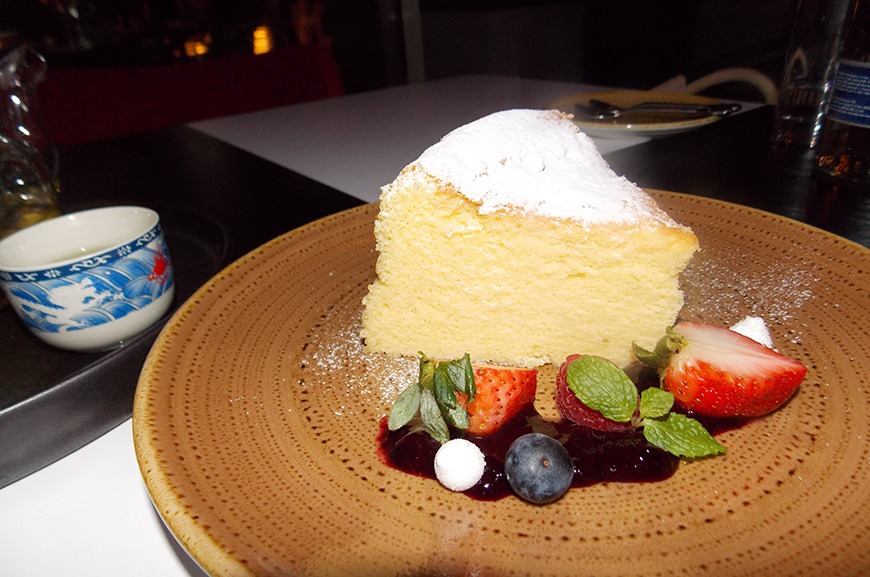 Japanese Cheese Cake
After getting a taste of what 24TH St. has to offer, we learnt that hawker foods are famous for their incredible flavour and 24TH St certainly delivers on that –whilst maintaining Dusit Thani Dubai's excellent hospitality.
Dusit Thani's new venture is a triumph –and there's even a Friday Brunch to try too. To book, simply tap 'show number' or 'click to contact.'