Bebemos: A Brand New Spanish Eatery in the Heart of Dubai
Le Meridien Dubai Hotel and Conference Centre adds another culinary feather to their hat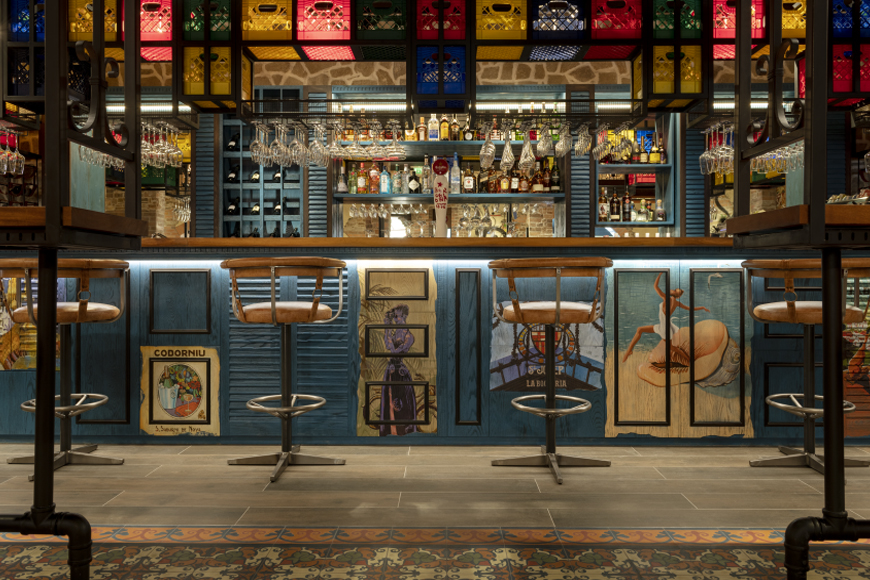 Bebemos offers the very best in Spanish dining. Moving away from traditional Spanish clichés of bullfighting, flamenco and castanets, the hotel is bringing Spain's popular culinary favorites like Tapas and other authentic Spanish cuisine to its patrons in Dubai.
Bebemos takes references from a robust culture full of vibrancy and an easy way of life. The Spanish eatery mixes brilliant flavors with the country's astonishing artistic heritage.
Such elements are also present across the interiors of Bebemos. Splashes of bright colours directly taking inspiration from artist Joan Miro's modernist sensibilities, that live in easy harmony with raw brick walls and fluid arches, which further accentuates the artistic and neo-modern duality of the beautiful Spanish culture.

The dining philosophy is simple at Bebemos and offers an insight into Spanish lifestyle, which leans towards Barcelona and stays true to Las Tapas culture of networking, socializing, enjoying and sharing food with one another in the middle of friendly ambience and drinks.
Chef Marc Manosa showcases a deep understanding of original Spanish flavors and leads the kitchen at the restaurant as Head Chef.
Chef Marc has spent his formative culinary years working across Barcelona's restaurants. His style is deep rooted in the city's beautiful culture and his culinary creations express the city's unique vibe.

To offer an authentic experience to its diners, Chef Marc uses specialty ingredients in bebemos, including Bomba rice, Nora peppers, among many others sourced directly from Spain.
The menu boasts authenticity, creativity and offers exotic favorites spanning from North Spain's seafood-focused cuisine to a variety of roast meat specialties from Central Spain. Bebemos boasts a large live paella grill; people dining at Bebemos can take their pick from 5 different types of paellas, with meats ranging from assorted seafood to crustaceans as well as chickens and artichokes.
"Highlighting the Spanish way of life, Bebemos will bring the country's most famous culinary tradition of Tapas to Dubai. With the launch of this tapas bar, Le Meridien village is adding more fun and energy to its varied dining experiences. Bebemos will offer great food and beverages, vibrant ambience and great entertainment. The décor will offer the distinct culture of Barcelona with art and music where the food menu is creative and simply delicious. Chef Marc has created an exotic selection, boasting of robust Spanish flavours that are as authentic as they are creative," says Carlo Javakhia, Executive Assistant Manager at Le Méridien Dubai Hotel and Conference Centre.