An Interview With Interior Designers, New Evolution
From customising furniture and designing your entire home, New Evolution can help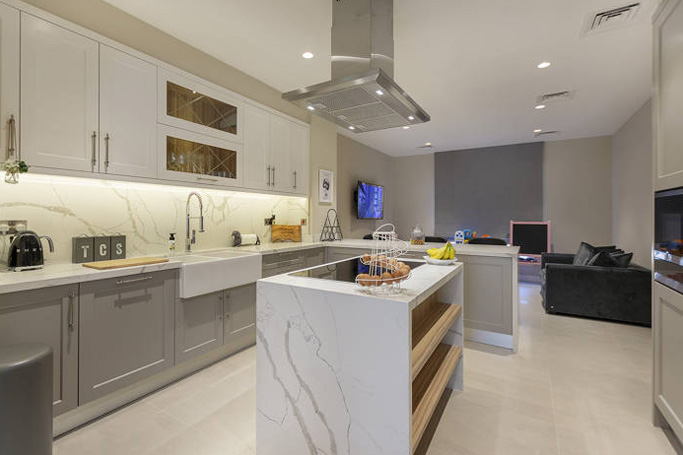 This Dubai-based interior design firm is dedicated to creating exceptional style in your home.
Their mission is to provide first-class, quality-controlled services throughout all aspects of their business - and they pride themselves on focusing on detail, execution, and quality of finish. With a team of professional designers, engineers and project managers, New Evolution offer full turnkey solutions.
So if you're wanting to refurbish your home, which is a great idea for 2019, or seek professional interior design advice - contact New Evolution. After all, they're responsible for this beautiful Hattan villa that's major Dubai goals.
SEE ALSO: 10 home design trends for 2019 we love
We recently had the chance to speak with the company's Managing Director, Adam Riccie, about the company, its mission and what advice he would share to those wishing to improve their home soon.

To start - we wanted to know where New Evolution got its name. "The name came from the fact that I have managed many companies over the years, and evolved with every job role, hence the name New Evolution", Adam explained.
SEE ALSO: Why it's a great idea to upgrade your Dubai home in 2019
With its unique name, comes a unique edge in the industry as the company prides themselves on being a very versatile company.
"We have packages to suit smaller villas at the correct budget" Adam continues, "and we also compete with the larger fit-out companies on large, high-end properties, which helps make us strong in the market."
Adam's passion has always been about customising furniture, and designing with a client - and this reflects through the company's objectives. Their team work closely with every client to realise their wishes, bringing over 25 years experience along with their portfolio of over 850+ projects.
SEE ALSO: This Hattan villa is the ultimate Dubai home goal
The company is British owned and managed, and has 10+ years experience in Dubai and the UAE. They offer services from customised furniture and space planning, to kitchen and bathroom works and full interior fit-outs.

But with the current UAE market, is interior design and refurbishment at the front of people's minds? Do they have the budgets? According to Adam, this is a common question on their client's minds. He explains that they ask, "can we get the high-end look without spending a fortune?"
"The answer is yes", he says, "but you must be careful with material selection.
SEE ALSO: This bathroom trend can help you feel less tired in the morning
"People that don't seek professional help for their homes can often end-up with a mix-up of colours and styles". Both are costly mistakes as you would be required to re-do a lot of work if this were the case.
If you are thinking of refurbing your home, Adam shares insights into this year's trends. "Natural products, solid timber tables, marble-topped furniture with steel bases and modern wall panels", he says, are all home and interior design trends you can expect to see this year.
Want to get in touch with the New Evolution team? Simply press click to contact below!