From stationary and chores, to family meals and after school activities... You'll be prepared with our EW Back to School Guide!
Posted on
27 August 2014
|
Last updated on 28 June 2017
Bedtime Routine
There was always one thing we remember about that first day back at school - always being tired! Why? Probably because we didn't listen to our parents when they told us it would be an early night, ready for the coming day. Instead, we'd spend our evening the same as we always had during the summer months. Late nights, games, reading, nibbling or with our friends. That first day back is always a shock to the system. So the last few days of summer is the best time to start implementing that bedtime routine to prevent tired eyes on that first day. While you might come across a few sighs and whines from your kids, they'll thank you for it later. 
School Labels
Stock up on name tags for your kids clothes! From t-shirts, jumpers, cardigans and shirts to socks, panties and even pumps - make sure your child's belongings have their name tagged in. You never know, those pumps might just go wandering. Intentionally or not. 
Uniform
Probably one of the most important things to get sorted before your child goes back to school is their uniform. We always read about Mums who just don't have enough pieces of their child's uniform, even when they've done the laundry. Try to anticipate what days you do laundry, what activities your child will be doing on certain days and when they will need a clean uniform. This will help you decide how many items of each piece of uniform you need. We're sure M&S's new Back to School range can help you out when buying the all important pieces.
Desk Space
Having no suitable space at home to complete homework is somewhat frustrating. Both for you as a parent - you probably don't want your children sprawled across the settee with pens, pencils and books - and for your kid, who will probably want some organisation to their homework, like they would have during the school day. Whether it's in your kids bedroom, or a family communal area, providing an adequate desk space for your children will help keep everyone happy. This could even be a chance to get creative - decorate the designated area and desk with school supplies, stationary and encouraging decor. 
Vitamins
If ever there was a perfect time to start getting your kids to eat healthily, it's the new school year. With routine and stability, comes a certain willingness from children. In all meals you make for your kids, whether at home or for school, make sure there's the necessary vitamins and nutrients needed to help fuel your child. And if healthy eating fails, multi-vitamins and capsules are a life saver. 
Lunch Boxes
While your children have all the fun picking their new lunch box for the year, as a parent, packing a school lunch for your kids can be tough. You need to balance the nutritional needs whilst offering foods your child will actually enjoy eating at school. It is very important that foods should include much needed minerals, nutrients and vitamins for school day energy and growth. We've even got some ideas for you here!
Family Meals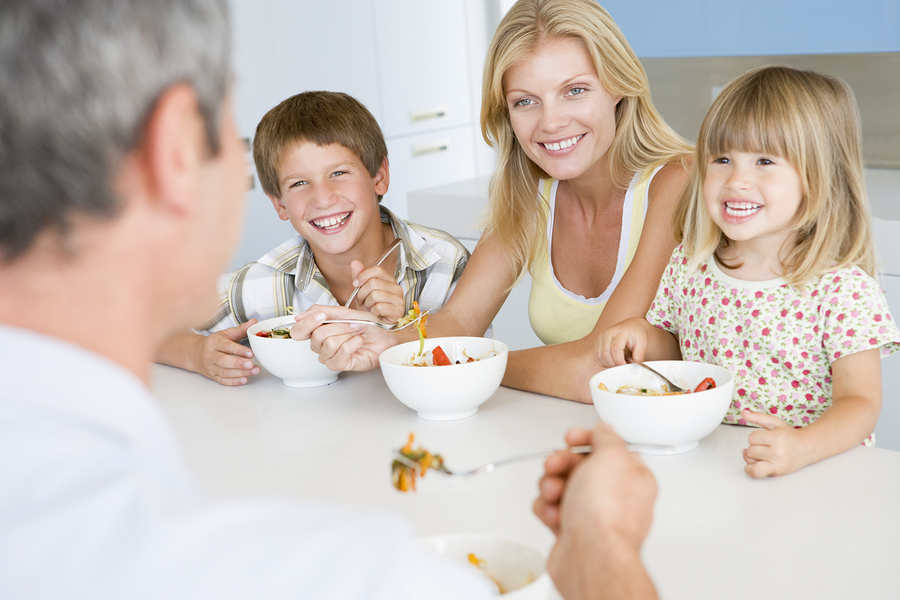 It may be easier said than done, but putting effort into designating time to have a family meal together helps to put routine into the family life. Plus, it gives your kids a perfect chance to tell you about their day, what they've done, what they'll be doing the next day and so on. From cooked meals to a healthy takeaway, having that family time will really help. 
Get Organised
It's hard to keep track of what everyone's doing and where they are or will be, in any given day. So it's a great idea to get organised as a family - this could be from having a communal calendar or diary where everyone can write in what plans they have in the coming year or term and any deadlines or important dates that are in the works. Plus, it is always a good way to make sure nobody is double booked, or no two events will clash. 
In this day and age, there are also some great apps that you can use to keep track of everything such as CalenGoo or Things. And apps like ShopSavvy and Mental Case help you to organise day to day tasks like shopping and will help you tick off those to-dos! 
After School Learning
Between getting home, family meals and bedtime, there should be time allocated to completing the all important homework. We suggest allowing your children to blow off some steam as soon as they get home, it allows them to let all their energy out on a physical activity, which will in turn, help their brain function and attention when it comes to homework time. Plus, who says this time has to be completely dedicated to homework from school - you can get involved, and help your kids with anything their stuck on, answer any questions they may have or even provide your own version of teaching that may prove valuable during their school time. Alternatively, if you don't have the time, you can emply a tutor or coach to assist in any learning outside of the school day.
Join a Club
We've all heard it before - it's important to involve yourself in after school and extricurricular activities after the school day. Whether this is straight after school or on a weekend. From arts and crafts, music to sports, there is always something for your kids to get involved with. It also gives them chance to flourish in something they're actually interested in besides the mundane maths, science and languages routine. 
The School Run
While your kids are actually enrolled in a school, the main question is - how and who is going to do the school run? It comes down to routine again. Families should decide and plan who is best to take on certain days, what method of transportation you'll use and what route to take. 
We advise that families should complete dummy runs prior to the start of term, which will help you determine the length of time it takes to get from your home to school and see what traffic will be like. 
And don't panic! If you as a parent cant drop them off at school yourself, there are plentiful options available to you. Car-shares with other families, school transportation, private taxis or even an old-fashioned walk, if it's doable. 
Hair Lice
A subject parents would probably rather avoid, but it is inevitable. Like chicken pox - once one has them, the rest are probably going to catch them. And where else is there better for head lice to ambush than a school filled with children with full heads of hair? So be prepared. Your child will more than likely be mortified at the fact, considering head lice are a taboo topic among school children. You may want to provide some gentle words of comfort or wisdom during this time. 
Homesickness
Especially at the beginning of term, you may find your children are a little homesick. And it doesn't matter at what age your children are! As surprising as it may be to some parents, kids will more than likely miss the summer fun and family time that is taken advantage of during the school holidays. Maybe send them to school with little notes of encouragement, or have a word with their teachers to keep an eye on them. We're sure it'll soon wear off. 
Tackle Chores
Perhaps this is a way to discourage homesickness at school? We're joking. But among the routine of school life and homework and family meals in the evening, it's probably a great time to start implementing chores into your children's lives. Even if they kick up a fuss, chores are a good form of discipline and responsibility, two principals that any child will benefit from having. 
Prepare for Tears! 
As a parent, it's probably easy to forget - but at one time, we were all the age your kids are now! Starting school was the most daunting and scary thing to have happened to us in our lifetimes. Your children will meet friends and enemies, they will have crushes and relationships, they will be discovering themselves and finding out who they are as a person. And of course, at a school age, everything is perhaps a little bit more dramatic. So be patient, offer as much advice and guidances as you deem fit. But inevitably and sadly, there will be times where your little ones will just need a hug and a kiss. 
Practice What You Preach
It's not just your children that are getting back into the swing of things at the start of term. The new academic year is also a great time to get motivated as a parent, whether in your job, finding a hobby or getting active. You may even want to go back to education yourself! Put it this way, if you're telling your kid to eat healthily - you should probably try and eat healthily. 
---