Posted on
30 September 2012
Bruschetta con Insalata di Pomodoro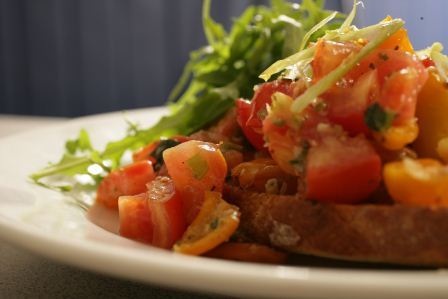 Ingredients
4 slices of white crusty bread
500g vine tomatoes
120g roasted yellow peppers
65ml extra virgin olive oil
12g fresh basil, roughly chopped
12g garlic, finely chopped
4 spring onions, finely chopped
1g dried oregano
Pinch of salt
Pinch of pepper
Preparation
Chop the tomatoes & the roasted peppers into 1cm cubes & place in a bowl.

Add the finely chopped spring onion, garlic, oregano & basil to the tomatoes & peppers.

Pour in the extra virgin olive oil & give everything a good mix.

Add the salt & pepper to taste.

Drizzle the slices of bread with olive oil and grill or toast until crisp. Heap the tomato mix on top and serve.