Tuscan Shrimp Risotto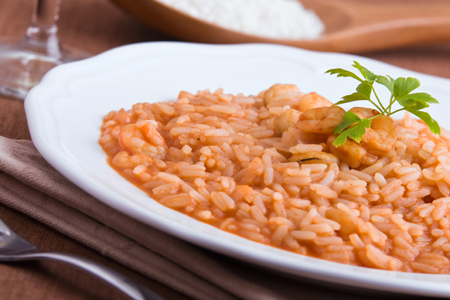 Ingredients
20 to 24 raw jumbo shrimp - peeled and deveined
1 1/4 cup Risotto rice (use Arborio for this recipe)
1/2 cup Thai Fish sauce
1 1/2 vegetable or fish stock
2 onions - chopped
2 cloves garlic - crushed
1 can peeled tomatoes - chopped
Juice of 1 lemon
Rind of 1 lemon
2 tbsp olive oil
3 tbsp butter (divided in the recipe)
3/4 cup Parmesan cheese
Pinch of dried herbs
Salt and freshly ground black pepper to taste
Preparation
First, over low flame heat the butter and oil together in a large pot.

Then fry the onions and garlic - stirring constantly

When the onions become soft, add the risotto rice and fry till all the grains are coated with the oil.

Following that add the fish sauce and keep smixing around.

Do this till all the liquid disappears.

Then pour in the stock - little at a time and stir continuously.

Just before the rice is cooked completely, add the chopped up tomatoes and prawns.

If the risotto seems dry

pour in some more stock.

Now allow the dish to boil for another 5 to 7 minutues - keep stirring.

Finally, when done, take off the stove and add the lemon rind and juice.

Right away stir in a little butter with some parmesan and a pinch of fresh ground pepper.

When serving, garnish your risotto with a lot of parmesan, dried herbs and a dollop of butter.

Serve hot immediately.