Posted on
25 November 2012
Christmas Leftover Turkey Curry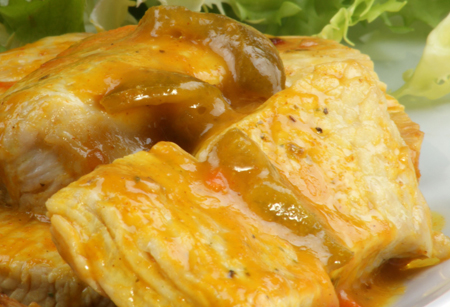 Ingredients
Leftover Turkey
Cumin seed, ½ tsp
Coriander, 1 tbsp ground
Chili powder, ½ ml
Cardamoms, 2 whole
Cloves, 2 whole
Cinnamon stick, 1 pc
Ginger, ½ tsp ground
Garlic, 1 clove crushed
Lemon juice
Oil, 45ml
Tumeric, 1 tsp
Salt
Preparation
Cut the leftover turkey into cubes

Heat the oil in a pan. Saute the onion until soft then add garlic.

Add the turmeric, ginger, cumin seed, coriander, chili powder and fenugreek. Fry and don't let the mixture burn.

Add the turkey and stir. Add enough water to cover.

Tie the cardamoms, cinnamon stick and cloves in a piece of muslin. Add the curry and bring to the boil. Reduce heat and remove cover. Leave for 30 minutes.

Add the squeeze of lemon juice and salt to taste.

Remove the bundle of spices.

Serve with basmati rice and a salad.
Cooks Note
Preparation time: 45 minutes