Apple Crumble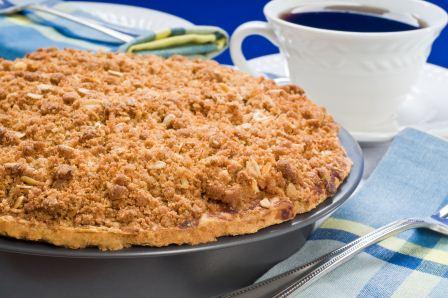 Ingredients
<em>For the filling</em>
8fl oz. water
Juice of 1 lemon
7oz. sugar
¼ tsp. ground cinnamon
¼ tsp. ground nutmeg
¼ tsp. ground clove
4 tbsp. cornstarch
¼ tsp. vanilla
3 cups apples, cored, peeled, and chopped
½ cup raisins, optional
<em>
For the Crumble</em>
1 cup flour
½ cup brown sugar
3.2oz. butter
Preparation
<em>For the filling</em>

Combine all the ingredients except the apples, vanilla and raisen in a saucepan over a medium heat. Once the mixture begins to simmer begin to stir it and stir it constantly for two minutes. Remove the sauce from the heat and stir in the sugar, vanilla and raisins, if using. Cool the mixture to room temperature before using.

Preheat the oven to 200°C.

Using your fingers rub the flour, brown sugar and butter until crumbs are formed. Transfer the pie filling to a greased pie tin and sprinkle the crumble mixture over it. Bake for 30 minutes. Serve hot or cold and garnish with cream.