Wholemeal cheesy biscuits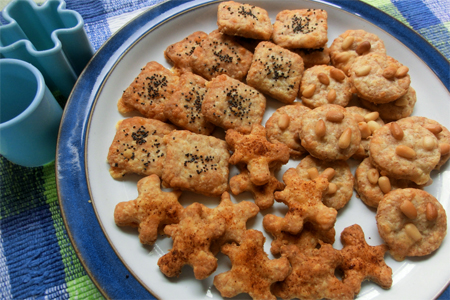 Ingredients
50g wholemeal flour
Sprinkling of salt
Good pinch of cayenne pepper
100g strong cheddar
50g butter
Toppings
toasted pine nuts, poppy seeds and cayenne pepper.
Preparation
1. In a large bowl, mix the flour, salt and cayenne pepper.

2. Grate the cheese into the bowl and mix in.

3. Cut the butter into small pieces and rub in until it resembles breadcrumbs.

4. Knead gently into a dough, adding just a little milk if the mixture is too dry.

5. On a floured surface, roll out the dough. Use a variety of small shaped cutters and place the biscuits on a greased baking sheet.

6. Choose and sprinkle the topping onto each shape. Bake in a preheated oven, about 185 degrees [depending on your oven], for 10-12 minutes.