Posted on
27 October 2014
Coconut green curry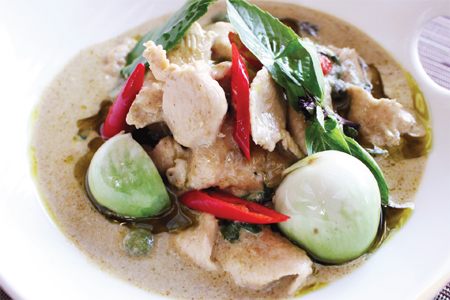 Ingredients
200g marinated chicken sliced
60g green curry paste
180ml coconut milk
120ml chicken stock
3g red chili sliced holland
2g lemon leaf
20g Thai baby eggplant
30g round eggplant
10ml fish sauce
5g sugar
5g chicken powder
15g sweet basil Thai
10g red chili sliced holland
200g steamed jasmine rice
Preparation
Gather all the ingredients and keep aside.

In a small pot, put coconut milk, chicken stock and green curry paste, let it boil then add thai eggplants.

Add lemon leaf, red chili followed by fish sauce, sugar and chicken powder. Let it simmer until it thickens (medium).

Once it boils, turn off the flame and add sweet basil leaves Transfer to a small curry bowl.

Garnished with red chili slice, fresh sweet basil and drop of curry oil.

<strong>Cooking tips from Chef Nita:</strong>

Do not rush while preparing the curry

The curry paste needs to be cooked on a slow flame, allowing enough time for all the ingredients to blend

When you get the aromatic fragrance, you will know the curry is ready!