Courgette, Garlic and Stilton Soup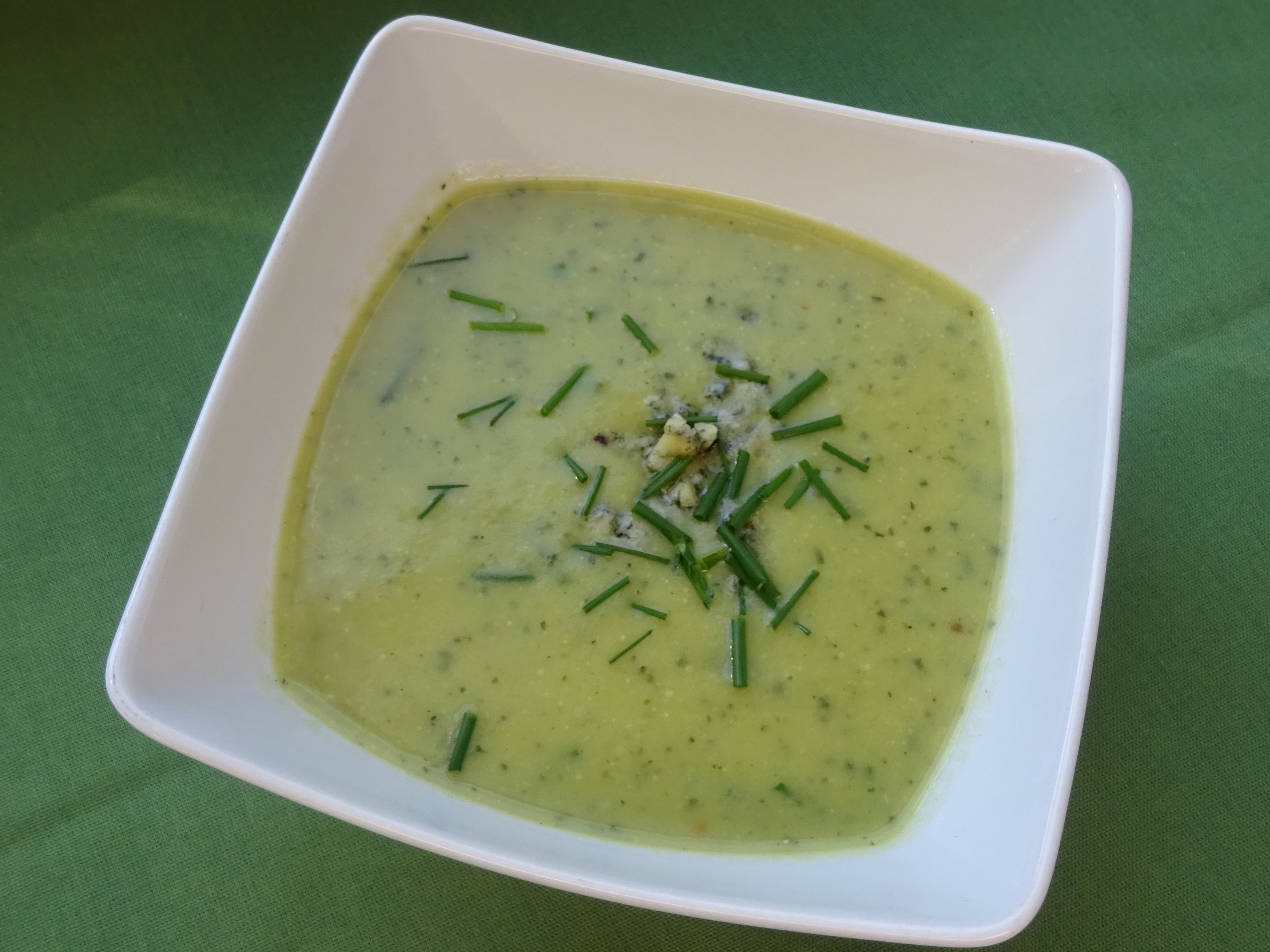 Ingredients
2 onions
3 cloves of garlic
3 courgettes [about 550 g]
1 large potato
15g butter
1 tablespoon of olive oil
1 litre of vegetable bouillon
100g blue stilton cheese, plus more for garnish
Salt and black pepper
A handful of fresh chives
2-3 tablespoons of single cream
Preparation
Peel and finely chop the onions and garlic, quarter the courgettes lengthways and chop into chunks and then peel and cut the potato into small dice.

Melt the butter and olive oil over a low heat in a large pan and gently saute the onion for 2 minutes, then stir in the garlic and saute for a further 3 minutes.

Add the chopped courgette and potato and stir well together. Sweat the vegetables gently for a few minutes, stirring to stop the potato sticking.

Gradually stir in the hot bouillon and bring to a simmer. Simmer gently, stirring occasionally, for about 20 minutes, or until the vegetables are really soft. Blend the soup until completely smooth.

Crumble or chop the cheese into small pieces and stir 100g into the soup, and warm through for a couple of minutes. Season to taste with salt and black pepper.

Chop the chives finely and stir into the soup, along with 2-3 tablespoons of single cream. Serve garnished with a little blue cheese and a sprinkling of chopped chives.
Cooks Note
A light and creamy summer vegetable soup with a gentle tang of blue cheese: easy to make and full of flavour.
Try using a different blue cheese, such as gorgonzola, or perhaps dolcelatte if you prefer a much milder flavour.