Posted on
4 November 2012
Oregano Steak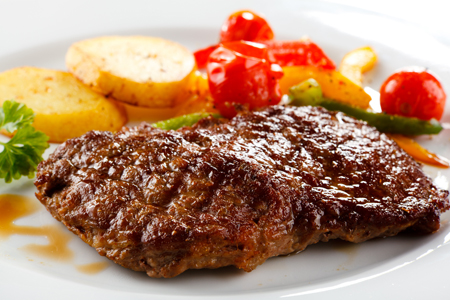 Ingredients
1/4 kg beef steak
2 tbsp butter
2 tbsp olive oil
1/2 cup dry red wine
1/2 tsp dried oregano
Salt and freshly ground black pepper
Preparation
First, the steak should be 1/2 inch thick

if necessary, pound between two sheets of waxed paper to achieve this thickness.

Heat the butter and olive oil in a large sauté pan set over medium-high heat.

After the butter is hot, add the steak and fry to brown on one side, about 3 minutes.

If the steak is larger than your sauté pan, cut in half.

Turn and season with salt and pepper.

Brown the other side, about 3 minutes.

Remove and set aside.

Add the wine and oregano to the pan, scraping up any meat pieces that may have stuck to the bottom.

Simmer to sweeten the wine for around 1 minute.

Meanwhile, cut the meat into six equal portions.

When the wine sauce is ready, pour it over the meat and serve immediatel.

Serve with new potatoes or bread and salad.