Posted on
30 December 2013
Chocolate cake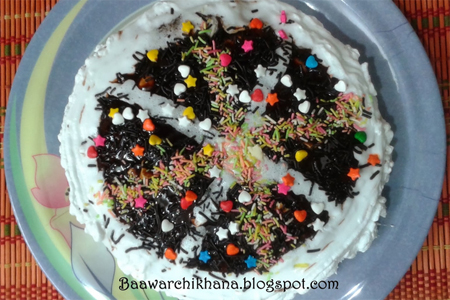 Ingredients
250 gm Instant cake mix
100 gm butter
75 ml full creame milk
100 ml water
2 tbsp powdered sugar
4 tbsp cocoa powder
4-6 Chashew nut
8-10 Raisins
1 tsp cherry
1 cup chocolate syrup
Preparation
Mix melted butter, cake mix, water, milk, sugar, cashewnut, raisins, cherry and cocoa powder together until batter is smooth.

Pre heat oven to 180 degree.

Grease and flour a baking pan and pour cake batter in it.

Bake at 180 degree for 30 minutes.

Until a toothpick, inserted in the centre, comes out clean.

Now after getting cool covered it with chocolate syrup and do icing on top.

Decorate as per your desire.