by
Zaytinya Lebanese Restaurant
Fattoush Salad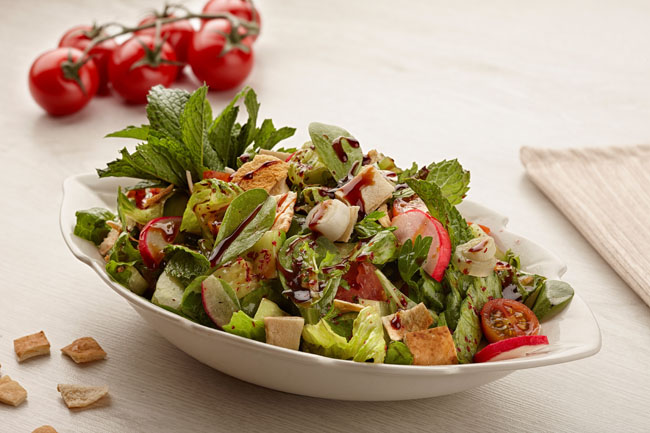 Ingredients
<strong>Salad</strong>
Arabic lettuce (chopped), 300 grams
Tomato (diced), 150 grams
Cucumber (diced), 150 grams
Watercress, 30 grams
Red radish (sliced), 30 grams
Spring onion (sliced), 30 grams
Onion (sliced), 30 grams
Mint leaves, 15 grams
Crispy Arabic bread (diced) 50 grams
Pomegranate molasses
<strong>
Dressing</strong>
Olive oil, 50 ml
Lemon juice, 25 ml
Balsamic vinegar, 20 ml
Sumac powder, 20 grams
Salt, for seasoning
Preparation
Add all the salad ingredients, except for crispy Arabic bread and pomegranate molasses, to a large mixing bowl, and mix with the dressing.

Once the salad is completely mixed with the dressing add the crispy bread to the top and drizzle with pomegranate molasses.

Serve and enjoy.
Cooks Note
Zaytinya Lebanese Restaurant shares their best recipes-- the famous Fattoush Salad and the delicious Kishkki.