Raspberry And Nectarine Trifles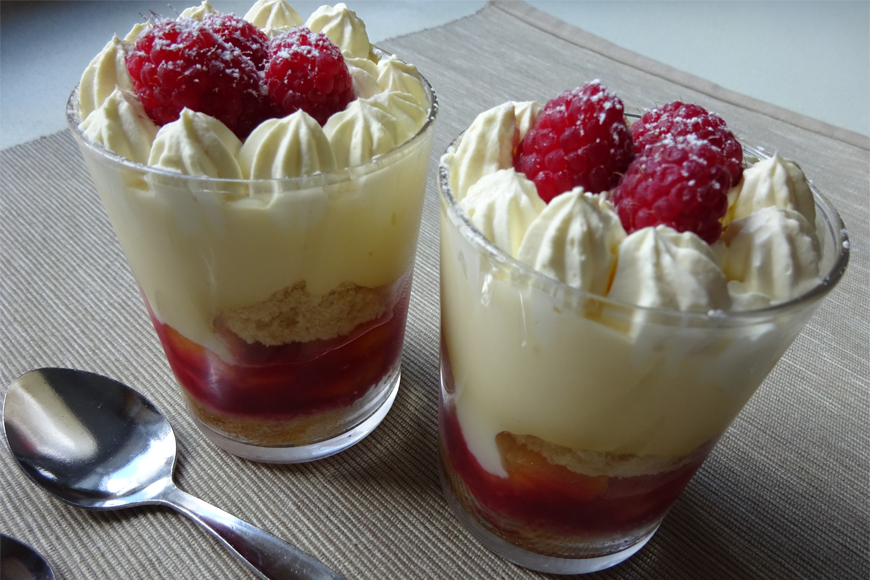 Ingredients
250g raspberries plus 12 more
Icing sugar
4 medium eggs
25g caster sugar
1 teaspoon of cornflour
500ml double cream
2 ripe nectarines
1 small madeira cake
Preparation
First make the raspberry coulis. Simmer 250g of raspberries with a tablespoon of icing sugar for about 5 minutes. Press the raspberries through a sieve to remove the seeds then taste the coulis to test for sweetness.

To make the custard, separate the egg yolks and beat them with the caster sugar and then the cornflour.

Heat 275ml of the double cream in a small pan, gradually stir it into the eggs and then return the mixture to the pan. Heat gently, stirring continually, until the custard is thick and smooth. Stir occasionally as the custard cools.

Halve the nectarines, remove the stones and peel off the skin. Chop into small pieces.

Choose 4 small and fairly straight glasses for the trifles. Slice the madeira cake and cut out 8 circles of cake that will fit exactly into the glasses.

To assemble the trifles, place a layer of cake in the bottom, cover with the raspberry coulis, then the chopped nectarine. Add another layer of cake, then spoon on the custard. Place in the fridge to chill while you whip the cream.

Whip the remaining 225ml of double cream and then pipe onto the trifles. Place 3 raspberries on top of each and chill in the fridge. Dust with icing sugar before serving.
Cooks Note
Lovely little fruity trifles with fresh juicy nectarine and summer raspberries.