Quick Nectarine And Almond Tarts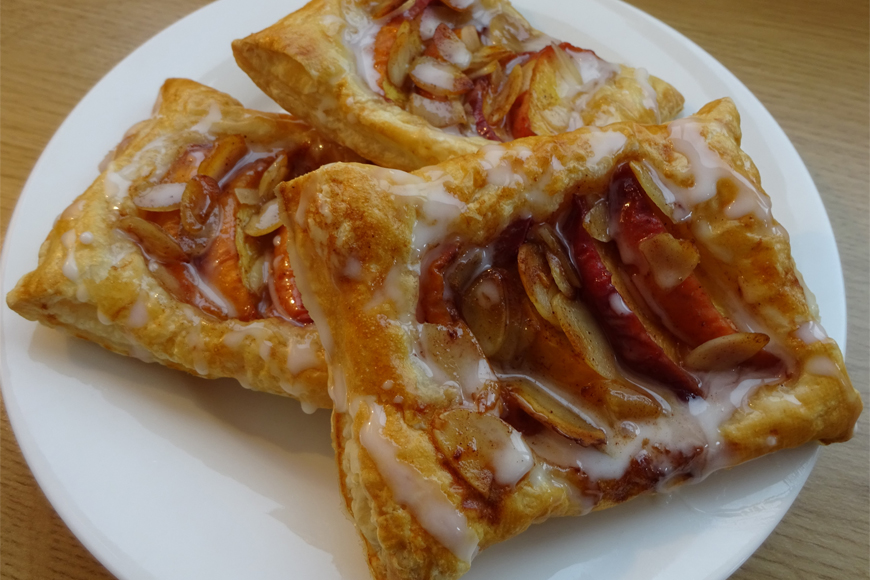 Ingredients
200g ready rolled puff pastry
2 large nectarines
2 tablespoons of light brown sugar
A quarter teaspoon of cinnamon
Half a teaspoon of lemon juice
20g sliced almonds
1 egg
Icing sugar
Preparation
Preheat the oven to 200 degrees, 180 degrees fan oven.

Unfold and lay out the pastry then cut into equal 6 squares or rectangles.

Halve the nectarines and remove the stones. Cut each half into 6 slices.

Place the slices in a bowl and sprinkle with the brown sugar, cinnamon and lemon juice. Add the almonds and gently mix together without bruising the fruit.

Arrange 4 nectarine slices, overlapping slightly, in the centre of each pastry square. Beat the egg and lightly brush it onto the pastry around the fruit.

Bake the pastries in the preheated oven for about 18 minutes, or until the pastry is golden brown and puffed up around the nectarine. Allow to cool.

Mix about 4 tablespoons of icing sugar with cold water, a little at a time, enough to make a glaze that can be drizzled but is not too runny. Drizzle over the pastries and allow to set before serving.
Cooks Note
These little pastries are really quick and easy to make, using only a few simple ingredients. Ideal for a weekend brunch or just a sweet treat.
These little fruit pastries need to be eaten freshly baked.
You can, of course, use peaches instead, or why not try experimenting with other fruits?