Portobello Mushroom Burgers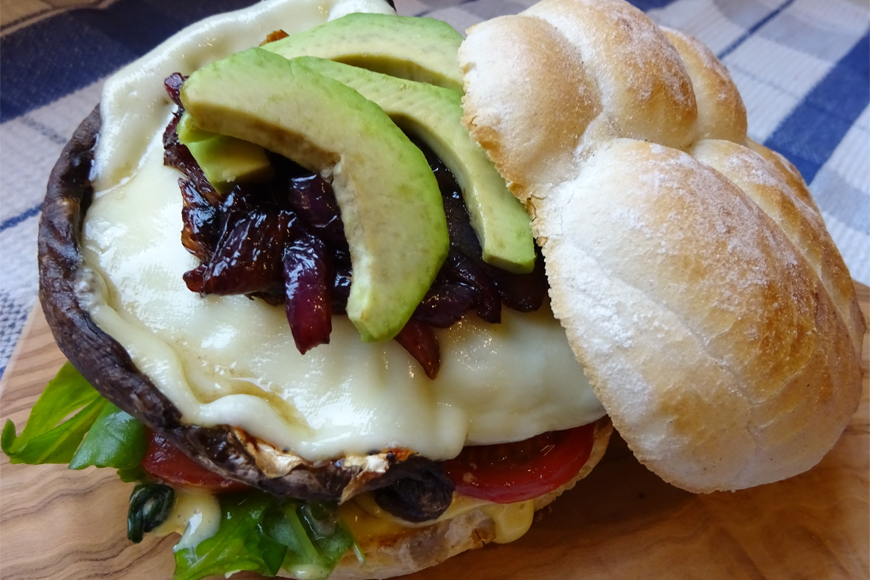 Ingredients
1 large egg
2 cloves of garlic
1 lemon
1 level teaspoon of Dijon mustard
Salt and black pepper
Olive oil
Balsamic vinegar
4 large portobello mushrooms
2 large red onions
1-2 tablespoons of brown sugar
4 large rustic bread rolls
Rocket
4 ripe tomatoes
4 slices of Maasdam cheese*
1 avocado
Preparation
Whisk the egg yolk with 2 tablespoons of lemon juice, the dijon mustard and a clove of crushed garlic. Gradually add 3-4 tablespoons of olive oil, whisking continually, until the aoli is thick and smooth. Season to taste with salt, cover and chill.

Stir together 4 tablespoons of balsamic vinegar and 2 tablespoons of olive oil, seasoned with salt and back pepper. Wipe the mushrooms and then marinade them in the oil and vinegar.

To caramelise the onions, peel and finely slice the onions and saute gently in 2 tablespoons of olive oil for 10 minutes, stirring occasionally. Stir in 2 tablespoons of balsamic vinegar and the sugar and continue to cook very gently for 15 minutes.

Place the marinated mushrooms upside down under a hot grill for 2-3 minutes, then turn them over. Grill for another 2 minutes then place a slice of cheese on top and grill very briefly to melt it. Meanwhile, split and lightly toast the rolls.

Wash the rocket, thinly slice the tomatoes then peel and slice the avocado.

Spread aoli on the bottom of each roll then add rocket and sliced tomato. Place a mushroom and cheese on the top and then add a generous spoonful of caremelised red onion and a few slices of avocado before adding the top of the bread roll.
Cooks Note
These delicious and satisfying mushroom burgers, with lots of tasty additions, make a fantastic meat free alternative.
*Emmenthal, or any other cheese with a mild, nutty flavour, works well too.
Choose a cheese suitable for vegetarians if preparing these burgers as a vegetarian dish.