Pappardella With Aubergine And Tomato Sauce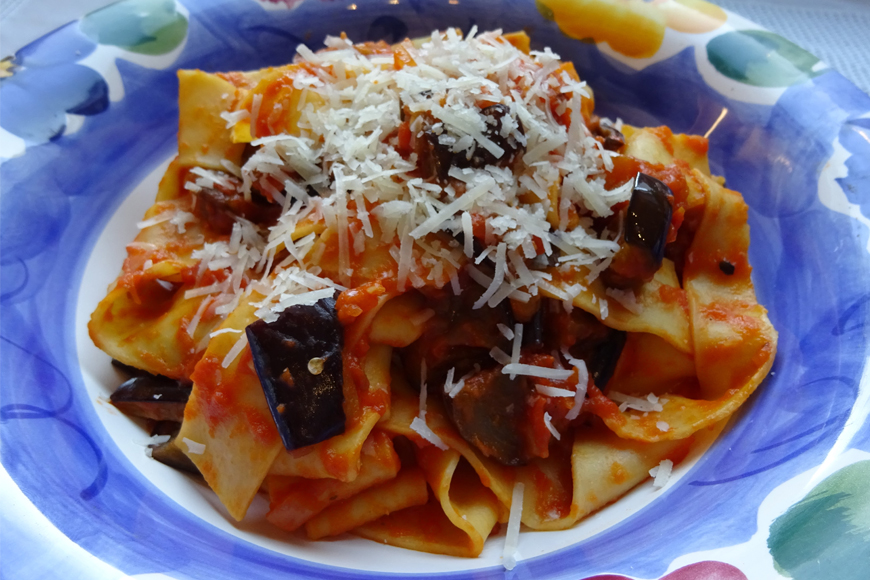 Ingredients
1 medium white onion
2 fat cloves of garlic
4 tablespoons of olive oil
2 400g cans of Italian chopped tomatoes
A pinch of sugar
Salt and freshly milled black pepper
3 medium aubergines, or 2 large
500g fresh pappardelle pasta
Parmesan cheese
Preparation
Peel the onion and the garlic then finely chop both.

Heat 2 tablespoons of oil in a large saucepan then saute the onion gently, stirring occasionally, for 5 minutes. Add the garlic and saute over a low heat for another 5 minutes until both are soft but not brown.

Stir in the tomatoes and a pinch of sugar then season well with salt and black pepper. Bring up to a gentle simmer and cook for about 20 minutes, stirring occasionally, until the sauce has thickened.

While the sauce is cooking, cut the aubergine into small bite-sized pieces. Heat 2 tablespoons of oil in a large, deep frying pan and fry the aubergine pieces, turning occasionally, until they are cooked and browned, probably for about 15 minutes.

Cook the pasta in plenty of boiling water according to the instructions on the packet.

While the pasta is cooking, blend the tomato sauce to a smooth puree; if it should become too thick, you can add just a splash of the pasta water. Stir in the aubergine and taste to check the seasoning.

Drain the pasta well and tip into the sauce then stir to combine. Serve immediately, topped with fresh parmesan cheese, finely grated.
Cooks Note
A really tasty simple supper dish using plump aubergines, so good at this time of year, in a home made tomato sauce with fresh pappardelle pasta, finished off with grated parmesan cheese.
Variations:
- If you have a glut of lovely fresh tomatoes, do use them, skinned and chopped, instead of canned.
- Fresh pasta is best if you have it, but you can use dried instead, and use the type of pasta that you family prefers.
- Other hard Italian cheeses could be used rather than parmesan. If cooking for vegetarians, make sure to choose a suitable cheese.
- Sometimes I like to add fresh basil to the tomato sauce, or add some finely chopped as a garnish.