Ten Simple Ideas For Filled Potato Skins
*nom nom nom*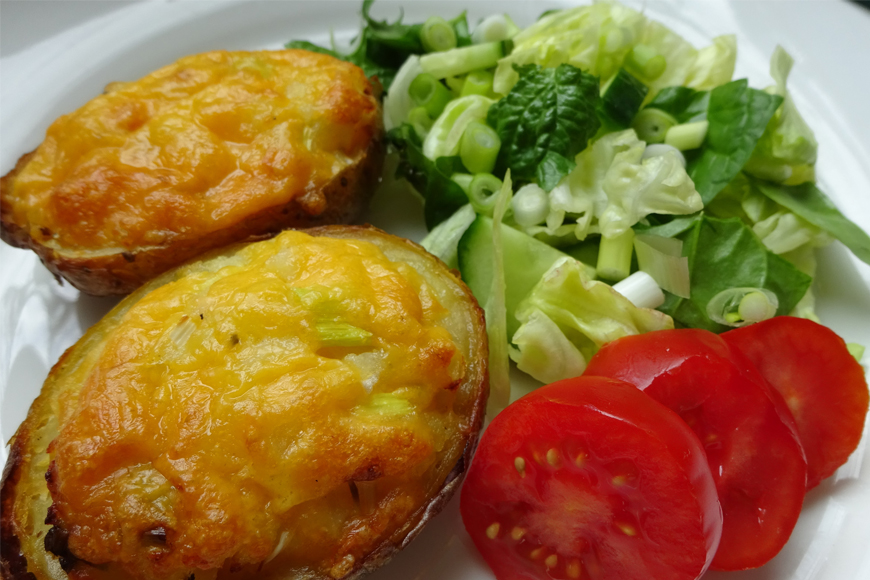 Filled potato skins are a great choice for buffets, barbecues or just a quick casual meal with friends or family, easy to make and always a favourite with children. They are so versatile, you can easily vary the fillings according to your own tastes. You can, if you wish, cook the potato skins in advance then add the fillings and reheat later.
How to make potato skins:
1. Preheat the oven to 200 degrees or 180 degrees fan oven. Warm an oven tray.
2. Choose potatoes of medium size, unless you are making tiny ones for appetisers. Scrub them clean, pierce the skins with a fork several times then rub with a little olive oil and season with salt and pepper. Bake for about an hour, longer if the potatoes are bigger, until the flesh inside is soft.
3. Allow them to cool enough to hold then slice each potato in half horizontally and carefully scoop out the flesh, leaving a thin layer on the skin to hold the potato together. [Retain the flesh; many filled potato skin recipes require it to be mixed with other ingredients to stuff back into the potato but some don't, or you may prefer them without too much potato. You can always use it for other recipes, such as mashed potato or in fishcakes.]
4. Add a small knob of butter inside each potato half, season then bake again for 5 minutes or so to crisp up the skin.
5. For most filled potato skin recipes, you just need to add the filling to the skins and bake for 15-20 minutes or until the topping is golden brown and the filling piping hot.
Ideas for fillings
A simple classic filling is made by just combining grated mature cheddar cheese and chopped chives or spring onions with the scooped out potato, stuffing it into the skins and topping with more grated cheese and finely chopped spring onion.
Mix the potato flesh with crumbled blue cheese and some quickly wilted spinach, pile into the skins and top with more blue cheese.
Slice and sauté button mushrooms in butter, combine with the potato flesh, season with black pepper and stuff into the potato skins. Serve topped with caramelised onions.
For a hearty meal, simply fill the skins with a good beef chilli, or a vegetarian version, then garnish with a spoonful of soured cream and chopped chives and serve a tomato salsa on the side.
Mix the scooped out potato with cottage cheese and finely chopped chives or spring onions then season with salt and pepper. Stuff and bake the potatoes then top with thin slices of smoked salmon.
Add canned tuna and sweetcorn to the potato flesh, season then top with some grated cheese.
Briefly sauté finely chopped shallot and garlic in butter before mixing with grated cheese and scooped out potato to fill the skins.
Mix the potato flesh with roasted vegetables, such as red pepper, aubergine and red onion. Top with a slice of creamy goats cheese.
Make a thick tomato and basil sauce, as you would for pasta, to put into the skins with the potato flesh and fresh basil, then top with fresh mozzarella cheese.
For a lighter option, use sweet potatoes instead of potatoes using just the same method. Try stuffing with chopped courgettes sautéed in butter mixed with the potato flesh and then seasoned, topped with a little grated cheddar and sliced tomato, or perhaps brie.