Posted on
17 September 2012
by
Amrish Sood, Brand Chef at Zafran
Achari Jhinga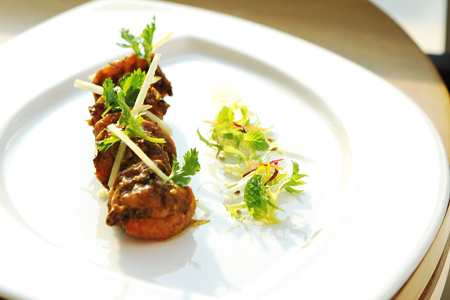 Ingredients
Shrimps 500 g
Mustard oil 75 ml
Fennel seeds 1 tsp
Onion seeds ½ tsp
Mustard seeds ½ tsp
Fenugreek seeds ¼ tsp
Chopped onions 200 g
Chopped garlic 1 tbsp
Chopped ginger 1 tbsp
Chopped tomatoes 200g
Turmeric powder 1 tsp
Chilli powder ½ tsp
Coriander powder 2 tsp
Lemon juice 30 ml
Chopped coriander
Salt
Preparation
Heat the mustard oil add fennel seeds, onion seeds, mustard seeds & fenugreek seeds

Allow the spices to splutter, add chopped onion, garlic & ginger . saute them till golden brown

Add chopped tomatoes to the above masala follwed by coriander powder, turmeric powder and red chili powder

Cook the masala, add de scaled & de veined shrimps mix them gently

Cook the pickled prawns to thick masala consistency

Adjust the seasoning with salt and lemon juice finish with fresh coriander.
Cooks Note
Achari Jhinga as dish, takes its essence from north Indian pickles & it is served at room temp or warm. Cooking is preferably done on a slow flame in a thick bottom pan ,prawns to be cooked to a stage where oil starts coming on side which will act as preservative. Achari Jhinga can be served as an accompaniment to a main dish also it goes very well with parathas.