Posted on
19 October 2015
Apple Snow with Oat and Sultana Biscuits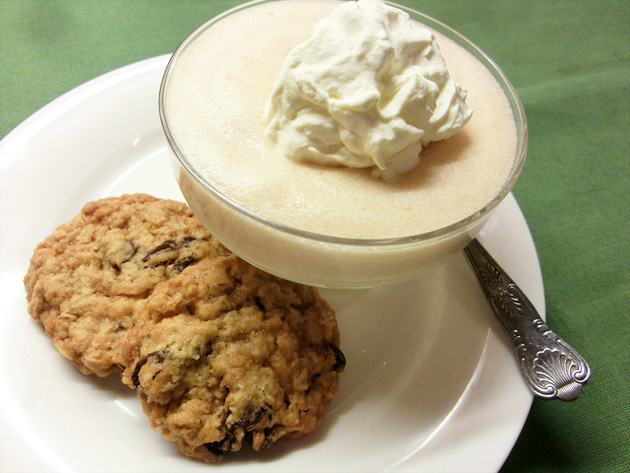 Ingredients
<strong>Apple Snow
</strong>
This recipe will make 6 portions.
700g prepared apple slices
40ml cold water
Half a small lemon
100g caster sugar
3 large eggs
200ml whipped cream
<strong>
Oat and Sultana Biscuits</strong>
Apple snow is often served with some kind of biscuit to add contrast
these oat and sultana biscuits are quick and easy to make and taste delicious, crunchy on the edges and chewy in the centre.
Makes 12 biscuits
<strong>Ingredients:</strong>
70g self raising flour
65g demerara sugar
50g sultanas
70g jumbo porridge oats
70g butter
1 tablespoon of golden syrup
1 tablespoon of milk
Preparation
1. Preheat the oven to 160 degrees, 140 degrees fan oven. Lightly grease an oven tray and line with baking parchment.

2. Combine the flour, sugar, sultanas and oats in a bowl.

3. Gently heat the butter and syrup in a large saucepan until it is melted. Stir in the dry ingredients a little at a time until it is all mixed in. Add the milk and stir well.

4. Take a spoonful of the mixture and heap it onto the prepared tray, shaping it into a circle and pressing just gently on the top. Place the biscuits apart from each other to allow room to spread. Bake for 15-20 minutes.

5. Allow to cool for 10 minutes before transferring to a wire rack. Store in an airtight container once completely cool.