Posted on
16 October 2012
Asian Sesame Salmon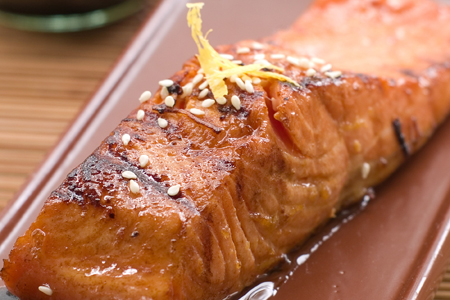 Ingredients
3 cups spinach - chopped and cooked
2 onion - chopped
3 cloves garlic - minced
3/4 can mango slices - chopped in bite size pieces
4 salmon fillets - fresh or frozen
1 tbsp balsamic vinegar
2 tbsp double cream - whisked
Bunch of chopped cilantro
2 tbsp oil
Asian Sesame dressing (recipe below)
<em><strong>ASIAN SESAME DRESSING</strong></em>
Whisk together all ingredients below:
1 tsp sesame oil
1 tbsp soy sauce
1/4 tsp crushed red chili flakes
2 tsp ground sugar or icing sugar
1 tbsp white vinegar
1 tbsp balsamic vinegar
1/4 cup oil
Preparation
Heat some oil in a pan on low-medium heat.

Place the salmon fillets in the heated oil and allow it to fry for 3 minutes on each side.

Lightly fry the salmon (with the garlic) till fillets are no longer dark pink on the inside.

Then throw in the garlic and allow it to saute while the salmon fillets are cooking.

Chop the mango slices and keep aside.

Then toss the chopped/cooked spinach in a bowl with the balsamic vinegar, chili flakes, and chopped onion and cilantro.

Finally, place the salmon on the plate and top it with the mango and the spinach mix.

Pour some Asian sesame dressing on top, along with some whisked cream.

Serve with some steamed rice or salad.