Banana Cream Pie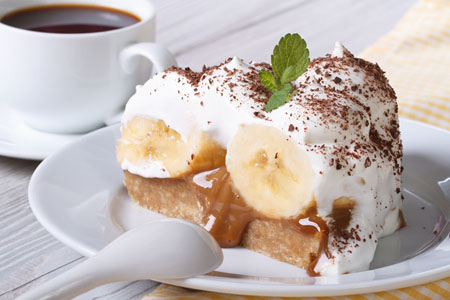 Ingredients
<strong>For the crust</strong>
20 vanilla cream-filled sandwich style cookies
1/4 cup margarine, melted
For the filling
24 ounces cream cheese, softened
2/3 cup granulated sugar
2 tablespoons cornstarch
3 eggs
3/4 cup mashed banana
1/2 cup whipping cream
2 teaspoons vanilla extract
shredded coconut, for topping (optional)
Preparation
Use a blender to finely chop the cookies.

Add margarine and blend until they are well combines.

Press mixture into the bottom of a 10" springform pan and smooth it out.

Refrigerate the crust while you make the filling.

Beat cream cheese with electric mixer until creamy.

Beat in sugar and cornstarch followed by the eggs (one at a time).

Beat in bananas, whipping cream, and vanilla.

Pour mixture into crust.

Place pan on a cookie sheet and bake in a 350 degree oven for 15 minutes.

Reduce oven temperature to 200 degrees and bake an additional 75 minutes, or until center is almost set, adding coconut for last 20 minutes.

Allow to cool completely before removing rim of pan -- Before removing the pan, run warm water over a knife and slide a knife around the edge of the cake to separate the cake from the pan cleanly.

Refrigerate cheesecake, uncovered, at least 6 hours.