Bangers and Mash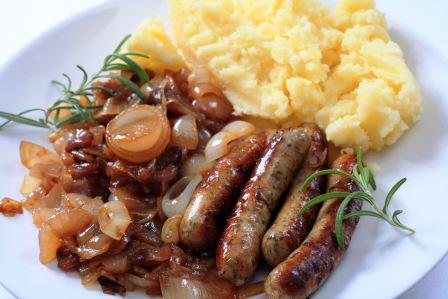 Ingredients
2 lbs. red skinned potatoes
1oz.. butter
2fl oz.. milk
0.5 oz. whole-grain mustard
3oz. shredded cheddar cheese
8 pork sausages
1oz. butter, separated
1 large onions, sliced
1 bottle of beer
0.5oz. flour
1oz. Worcestershire
8fl oz. chicken or beef stock
Preparation
Dice the potatoes into large chunks and bring to boil in a large pot of water. Reduce the heat and simmer the potatoes for 10 minutes, until they are tender. Drain the potatoes well. Make a mash with the potatoes, butter and milk using a potato masher

never make mash in a food processor. Once the desired consistency is reached add the cheddar and mustard and stir the ingredients in. Season to taste.

Heat a half an ounce of butter on a skillet and add the sausages then the onions. Allow them to brown over a medium heat for ten minutes. Once they have browned sufficiently add the beer and allow the liquid to reduce for around fifteen minutes. Stir the mixture occasionally.

Once the sausages and onion are cooked remove them from the skillet leaving the drippings in tact. Mix half an ounce of butter and half an ounce of flour with the remaining sausage juices and beer and stir it. It should thicken instantly. Add the Worcestershire sauce and stock to make the gravy the desired consistency.

Serve the bangers over the mash, topped with gravy.