Beef and Guinness Stew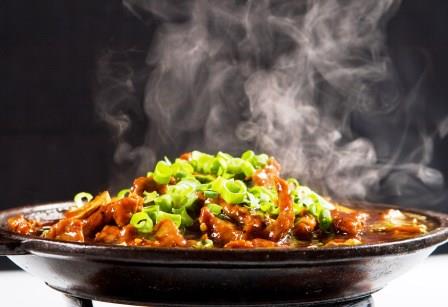 Ingredients
2 lb. lean stewing beef, cubed
1.5fl oz. oil
Cayenne
Salt and freshly ground pepper
1oz. flour
2 large onions, diced
1oz. tomato paste, mixed with 2oz. water
1 large garlic clove, crushed (optional)
1 large can Guinness beer
2 large carrots, cubed
Handful fresh thyme
Preparation
Toss the beef cubes with the flour, salt, pepper and cayenne pepper. Heat the oil in a skillet and brown the meat on all sides. Add the tomato paste, garlic and onion to the meat and sauté for 4 to 6 minutes until the onions start to soften.

Transfer the meat and bulbs into a casserole dish and use 2oz. of the beer to deglaze the skillet. Pour the contents of the deglazed skillet over the meat. Add the remaining Guinness, carrots and thyme and season if necessary.

Cover the casserole dish and simmer on a very low heat on the stovetop or in the oven at 150°C for 2-3 hours until the meat is so tender that it falls apart to the touch. Season before serving if required and serve with colcannon mash.
Cooks Note
Guinness, the popular Irish stout that was called liquid food by the masses hundreds of years ago, when people were poor and a pint was what they enjoyed most. Ironically the "liquid food" of days gone by is increasingly being used in cooking. One of the homeliest and most popular comfort foods to come out of Ireland is the beef and Guinness stew. This popular Irish food is served in POubs around the world and is most popular during St. Patricks day. The most widely celebrated Saints day worldwide.