Beef Bourguignon (Boeuf Bourguignon)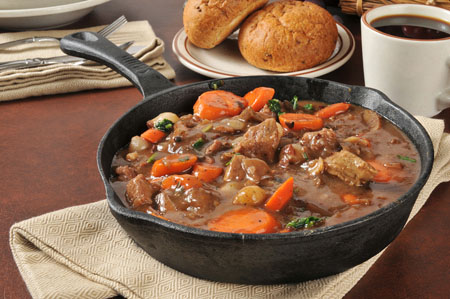 Ingredients
1.5 kg beef, cut into chunks
150 g diced, thick-cut smoky bacon
300 g white button mushrooms
100 g flour
2 large onions
2 carrots
5 crushed garlic cloves
1 bouquet garni (3 bay leaves, 3 sprigs of thyme, parsley)
2 bottles red wine, preferably Hautes Cotes de Beaune
Oil, salt and pepper, a pinch of nutmeg
Preparation
Peel and chop the onions.

Peel the carrots and slice them.

Dice the mushrooms.

Heat a small amount of oil in a large stew pot and brown the bacon, onions, carrots and mushrooms.

When the bacon is browned and the vegetables have started to flop, remove the pot.

Flour the chunks of beef and brown the beef.

Add salt and pepper, ground nutmeg, the crushed garlic cloves, bouquet garni, bacon, onions and mushrooms.

Add wine until the beef is almost covered.

Bring to the boil, cover, lower the heat and allow to simmer for 2 and 1/2 hours.

Remove the cover and cook for a further 1/2 hour in order to thicken the sauce.

Serve with steamed vegetables and potatoes.
Cooks Note
Recipe from Aga Marchewka.