Beef Lok Lak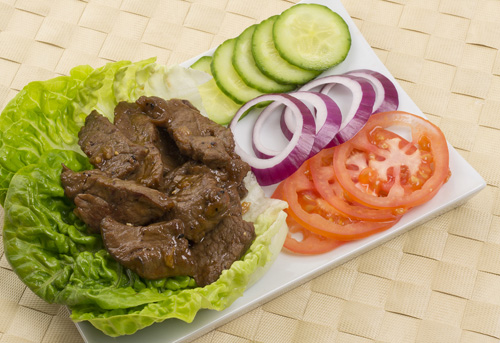 Ingredients
300 g beef steaks, sliced ( best you can afford)
1/4 cup light soy sauce
1 tablespoon oyster sauce
1 tablespoon tomato sauce ( ketchup)
3 tablespoons sugar
1 teaspoon fresh ground black pepper
1 teaspoon fish sauce
2 garlic cloves, finely sliced
2 tablespoons vegetable oil
To serve
2 small tomatoes, sliced
1 cucumber, peeled and finely sliced
1/2 small red onion, finely sliced
lettuce, iceberg or romaine leaf
Dipping sauce
juice of a lime
2 teaspoons fresh ground black pepper
1 teaspoon salt or 1 teaspoon fish sauce
1 tablespoon water
Preparation
1. In a large bowl, mix beef with soy sauce, oyster sauce, tomato sauce sugar, fish sauce and ground black pepper and garlic. Marinate at least 20 minutes or up to one hour.

2. Make dipping sauce, combine ingredients in a small bowl-set aside.

3. Decorate two dinner plates with sliced tomatoes, cucumber and onion. Set aside.

4. Place the lettuce leaves on a separate platter.

5. Heat oil in a wok over a high heat and stir-fry beef until cooked. Divide between the two dinner plates.

6. See intro for how to eat.