Broccoli and Cheddar Mac 'n Cheese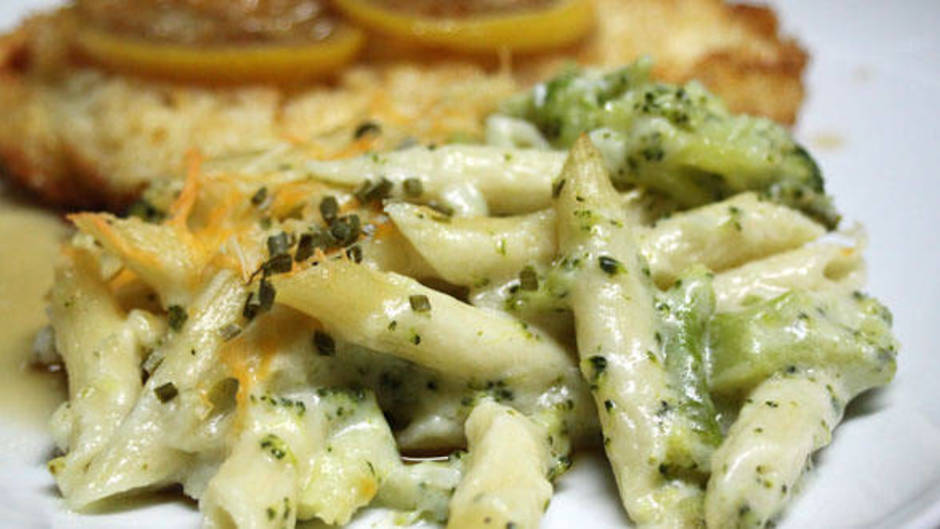 Ingredients
Salt 1 pound whole wheat or whole grain penne with lines
2 bundles broccolini, trimmed and cut into 1-inch lengths or 1 large head broccoli, trimmed and cut into small florets
4 tablespoons butter
2 cloves garlic, finely chopped
3 tablespoons flour
1/2 cup chicken stock
2 cups milk
2 1/2 cups extra-sharp yellow cheddar cheese, divided
Pepper 1/4 cup chives, chopped or 2 scallions, thinly sliced (optional)
Preparation
1. Pre-heat the broiler.

2. Bring a large pot of water to a boil for the pasta.

3. Salt the water and cook the pasta to al dente, according to the package directions (about 10-12 minutes total, depending on the brand). When the pasta has been cooking for a couple of minutes, add the broccolini or broccoli to the water and finish cooking everything together, 8 minutes more.

4. Meanwhile, melt the butter in a saucepot over medium heat.

5. Add the garlic and cook for 2-3 minutes.

6. Whisk in the flour and cook for 1 minute, then whisk in the stock and milk.

7. Let the sauce thicken to coat the back of a spoon

stir in 2 cups of cheese and season with salt and pepper.

8. Drain the pasta and broccoli and toss with the sauce.

9. Adjust the seasonings, to taste.

10. Place in a large casserole dish and top with the remaining cheese and chives or scallions, then place under the broiler to bubble and brown the top.