Posted on
11 November 2015
Broccoli with Black Bean-Garlic Sauce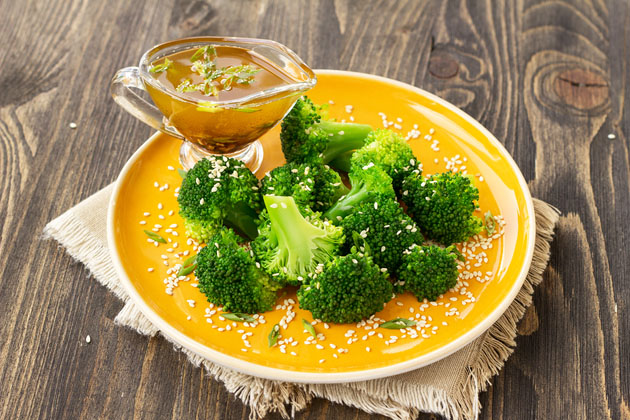 Ingredients
1 teaspoon sesame seeds
1/2 cup water, divided
1 teaspoon rice-wine vinegar, or white-wine vinegar
1 teaspoon cornstarch
2 teaspoons black bean-garlic sauce, (see Ingredient note)
2 teaspoons canola oil
1 clove garlic, minced
4 cups broccoli florets
Preparation
1.

Toast sesame seeds in a small dry skillet over medium-low heat, stirring constantly, until lightly browned and fragrant, 2 to 3 minutes. Transfer to a bowl to cool.

2. Mix 1/4 cup water, vinegar and cornstarch in a small bowl. Add black bean sauce and stir until smooth.

3. Heat oil in a large nonstick skillet or stir-fry pan over medium-high heat. Add garlic and stir-fry until fragrant, about 30 seconds. Add broccoli and stir to coat. Add the remaining 1/4 cup water

cover and steam just until the broccoli is tender-crisp, 1 to 3 minutes. Push broccoli to the sides and pour the sauce mixture in the center. Stir until the sauce begins to thicken, about 1 minute. Stir in the broccoli to coat. Serve immediately, sprinkled with the sesame seeds.