Posted on
9 September 2015
Caesar Salad with Eggs, Quinoa & Avocado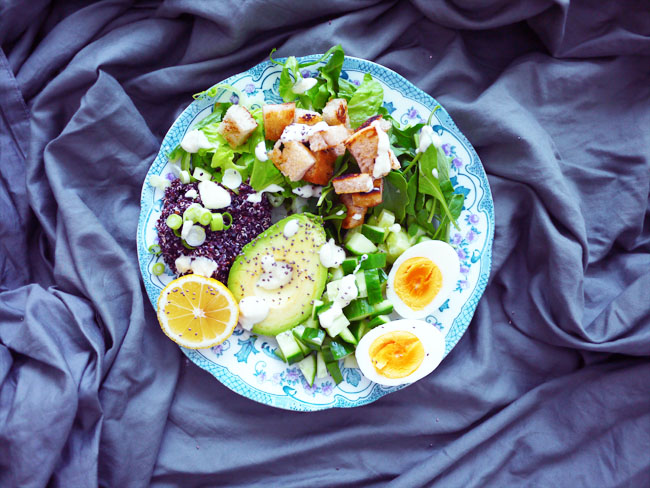 Ingredients
<strong>For the dressing:</strong>
1 clove Garlic, minced
1/2 Lemon, juiced
50 g Parmesan Cheese, grated
200 ml Yoghurt
1 tbsp. Dijon Mustard
Salt & Pepper, to taste
<strong>
For the salad:
</strong>
300 g Quinoa
1/2 cube of Vegetable Stock
Water to cover the quinoa
2 tbsps. Olive Oil
1 bunch Romaine lettuce, torn into pieces
4 small Eggs, boiled
6 slices Rustic Bread, diced
1 Onion, sliced
4 Avocados, sliced
1 Cucumber, sliced or chopped
1 bunch Spinach, rinsed and chopped
Preparation
1. For the dressing

mince the garlic, juice the lemon and grate the parmesan. Mix all the ingredients for the dressing in a bowl.

2. Boil the quinoa with 1/2 a cube of vegetable stock until soft, approximately 10 minutes. Drain and mix the quinoa with 1 tbsp. of olive oil.

3. Meanwhile, rinse and tear the romaine salad in smaller pieces.

4. Boil the eggs.

5. Dice the bread in croutons.

6. Heat a pan and add the 1 tbsp. of olive oil and the croutons. Fry on medium heat until golden, watch out, they burn easily.

7. Slice the onion and avocado.

8. Slice or chop the cucumber.

9. Rinse and chop the spinach.

10. Arrange the romaine lettuce in a big bowl, top with quinoa and spinach.

11. Cut the eggs in four pieces and put them on the salad.

12. Add the avocado and onion.

13. Sprinkle the salad with the croutons and finish with a drizzle of dressing.