Posted on
17 February 2016
Carrot Cake Breakfast Oats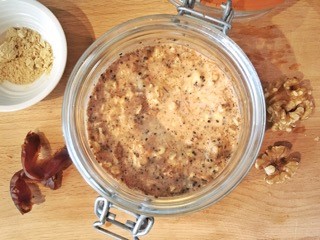 Ingredients
¼ cup of rolled oats
½ carrot, grated
¼ banana, mashed
½ cup of milk
3 dates, pitted and chopped into small pieces
small handful of walnuts, coarsely chopped
1 tbsp of chia seeds
½ tsp ground cinnamon
¼ tsp ground ginger
pinch of ground nutmeg
<strong>For topping: </strong>organic natural yogurt
Preparation
In a jar/ container add the mashed banana, grated carrot, oats, chia seeds and stir to combine.

Add to the oaty mixture, half the chopped dates and half the chopped walnuts.

Pour the milk over the oat mixture – make sure it covers the ingredients.

Add the cinnamon, ginger and nutmeg.

Stir to combine all ingredients.

Place, covered, in the fridge overnight.

In the morning, remove oats from the fridge, stir to loosen.

Top the overnight oats with 3-4 tablespoons of yogurt and the remaining chopped dates and walnuts.
Cooks Note
To make this gluten free, use gluten free rolled oats.
To make the dairy free and vegan, use an alternative milk such as almond, or rice milk and yogurt such as organic soya.
This recipe can also be heated in a pan on the stove to make a sweetly warm porridge.
Serves 1