Champ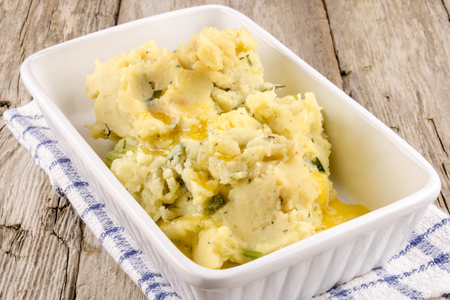 Ingredients
1kg potatoes
50g butter
Large bunch of spring onions
150 ml milk
Salt and freshly ground black pepper
Preparation
1. Peel the potatoes and cut them into chunks of a similar size. Put them into a pan of cold, salted water and bring to the boil. Cook for about 15 or 20 minutes, until they are tender.

2. Wash, peel and chop the spring onions into pieces, keeping the green parts aside for garnish. In a separate pan, melt the butter then turn off the heat. Place the spring onions in it to warm and add salt to taste.

3. Drain the potatoes in a colander and steam dry them by placing a clean tea towel over them to absorb the excess moisture.

4. Pour the milk into the potato pan and boil it. Turn off the heat, add the potatoes to the milk and mash them well together until really smooth. Add a good grinding of black pepper. Add the spring onions and any butter left in the pan and fluff it all together.

5. Serve steaming hot in a serving dish, garnished with the green part of the spring onions sliced very thinly.
Cooks Note
Champ originates from the north of Ireland and is similar in appearance to colcannon but uses spring onions instead of cabbage. It is really tasty served with good quality sausages or steak.