Posted on
3 December 2012
Cheerio Xmas Tree Treats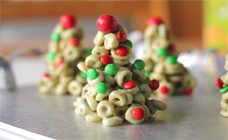 Ingredients
3 cups marshmallows (white or pink)
3 tbsp. butter
Green food colouring
3 cups Cheerio's
Mini M&M's (just the red and green ones)
Jaffa biscuits
Vegetable fat spray
Preparation
In a bowl, place the marshmallows and butter together and melt in the microwave on high for 40 seconds.

Mix well with a spoon.

Add green food colouring until you have the colour you like.

Pour Cheerio's into the marshmallow mix and stir well to coat. Leave to cool until the mixture becomes tacky.

You may need to put it in the fridge if it is a warm day.

Cover a tray with baking paper. Spray your hands with canola spray and shape the Cheerio's mixture into cones and place on the tray.

Place in the freezer for 20 minutes to firm up.

Remove and decorate with red and green M&M's and place a Jaffa on top.

The trees will still be sticky enough for the decorations to adhere but you may need to use a little icing to stick the Jaffa on. You can use a tube of ready-made writing icing.

Little ones will need help with the microwave step of this recipe. A light dusting of icing sugar will make it look like you have snow on your trees.
Cooks Note
These great little Cheerio's Christmas trees are perfect to make with the kids and they will love decorating them. These are used to decorate the house and why not give to dear friends.
Preparation Time: 1 hour
Cooking time: less than 1 min
Thanks to Naturhouse for this tasty and healthy recipe www.naturhouse.ae