Cheese Garlic Bread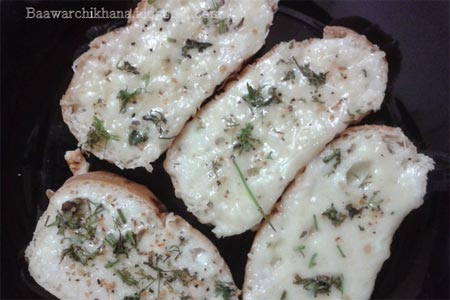 Ingredients
1 loaf long bread (baguette)
5 tbsp garlic cheese spread
2 cloves of garlic, crushed
1 tsp oregano
1 cup mozzarella cheese, grated
1 cup processed cheese, grated
2 tbsp coriander leaves, finely chopped
Preparation
Take a large bowl, add the garlic cheese, garlic and salt as required and mix well.

Cut the loaf into 2-3 cm slices, not completely.

Spread the garlic mixture over the loaf.

Sprinkle the grated cheese (mozzarella and processed both), oregano and chopped coriander leaves over it.

Now toast these in a preheated oven for 8-10 minutes till the slices have turned golden.

If you do not have an oven, you could keep these on a flat tawa/griddle and toast them on low heat till the butter melts.

Serve immediately.