Posted on
19 November 2015
Chicken Fajitas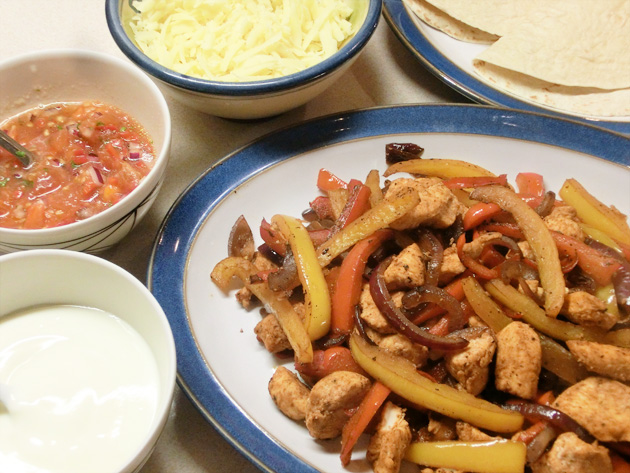 Ingredients
2 chicken breasts
1 small red chilli
1 clove of garlic
1 teaspoon of smoked paprika
A quarter teaspoon of ground cumin
A quarter teaspoon of ground coriander
Salt and freshly milled black pepper
Half a lime
1 red onion
1 red pepper
1 yellow pepper
2 tablespoons of olive oil
4 soft tortillas
100ml sour cream
50g mature cheddar cheese
<strong>For the salsa:</strong> Half a red chilli Half a small red onion A clove of garlic 4 large vine tomatoes Salt and black pepper Half a lime Olive oil A pinch of sugar A few sprigs of coriander
Preparation
1.

Deseed the red chilli and slice it into very thin strips, peel and crush the garlic and place both in large bowl. Add the paprika, cumin, coriander and a good sprinkling of salt and black pepper. Squeeze in the juice of half a lime and stir everything together. Cut the chicken into strips, add to the bowl and coat with the marinade then leave in the fridge to chill.

2. Make the salsa. Peel and very finely chop the chilli, onion and garlic and place them in a small bowl. Peel and chop the tomatoes and add them to the bowl, along with a grinding of salt and pepper, the lime juice, a splash of olive oil, a pinch of sugar and the finely chopped coriander. Mix it all together.

3. Peel the red onion and deseed the peppers then cut them into thin strips. Grate the cheese. Wrap each tortilla into a foil parcel. Heat the oven to 140 degrees, 120 degrees fan oven.

4. Heat a tablespoon of olive oil in a large frying pan or a griddle pan and cook the marinated chicken for 7-8 minutes, turning frequently, until cooked through. Transfer to a plate and keep warm whilst you cook the peppers and onion, adding a little more olive oil, for 5-6 minutes, until they soften and begin to look a little charred. Add the chicken back to the pan and stir it with the vegetables for a minute or two.Meanwhile, put the wrapped tortillas into the oven for about 10 minutes.

5. Serve the chicken, onions and peppers on a platter, accompanied by the tortillas and the salsa, grated cheese and sour cream in small bowls, so that everyone can make up their fajitas to their liking.You might like to serve guacamole with this dish too.
Cooks Note
Fajitas are a popular meal to share with the family or friends at any time, but at busy times of year it's especially good to be able to rustle up something so hot and tasty with so little time and effort.