Chicken Inasal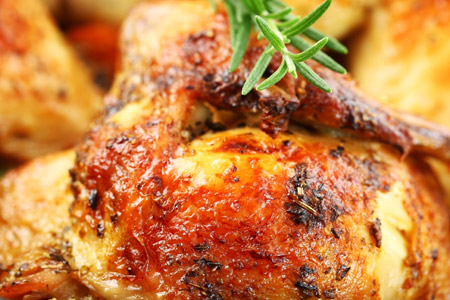 Ingredients
2 lbs. chicken
Marinade:
1/2 cup lemon
1/2 tablespoon ground black pepper
1/4 cup brown sugar
3/4 cup lemon grass, chopped
1 cup white vinegar
1 tablespoon salt
2 tablespoons garlic, minced
2 tablespoons ginger, minced
Basting Sauce:
½ cup butter, melted
¼ teaspoon salt
¼ cup brown sugar
1 teaspoon lemon juice
3 tablespoons annatto oil
Preparation
In a large bowl, mix salt, pepper, lemon grass, garlic, ginger, brown sugar, vinegar, and lemon juice. Mix well until all the ingredients are evenly distributed.

Cut the chicken through the middle to make it easier to cook and shorten the cooking time. Rub the chicken down thoroughly to the mixture and marinade for 3 hours.

For the basting sauce, combine butter, salt, annatto oil, and lemon juice. Set aside.

Cook in a skillet over medium heat and drizzle a little oil. Cook chicken for 30 minutes on each side while basting adequate amount of butter mixture. Make sure the middle of the chicken has no blood by using a knife.

Transfer to plate and serve hot. Enjoy!