Posted on
30 December 2013
Chicken lollipop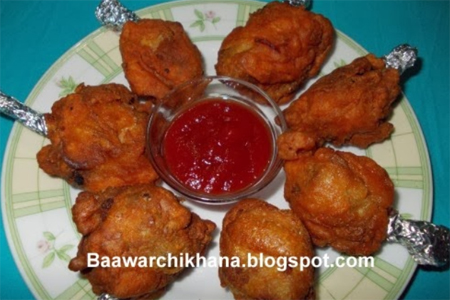 Ingredients
Whole chicken wigs
2 tbsp fresh garlic paste
2 tbsp fresh ginger paste
2 tbsp Red chilli paste (tandoori colour)
1 tsp soy sauce
1 1/2 tsp white vinegar
1/2 tsp white pepper powder
1 1/2 tsp salt
1/4 cup white flour
3/4 cup cornstarch
2 eggs
Oil
Preparation
Wash the chicken under running water and drain well.

Cut of the wing tips remove thin bone and pull the flesh to one end of the thick bone to make a lollipop.

Place the chicken lollipop in a deep bowl. Add garlic, ginger paste, 1 tsp red chilli paste, suace, vinegar, white pepper powder and salt. Stir well.

When all wings are well coated with the marinade, cover the bowl with lid and keep in refrigerator for 2 hours.

Combine white flour, cornstrach, eggs, oil ( 6tbsp) and the remaining red chilli paste in a bowl and whisk well.

Add 1 tbsp water and whisk to make a thick batter. or pouring consistance.

Rest the batter for 15-20 minutes.

Heat oil in a wok o high flame, reduce heat to medium, dip the marinated wings in batter and gently slide into oil, a few at a time.

Cook it turnin frequently with a slotted spoon, for 3-4 minutes or until crisp and golden brown.

Drain with slotted spoon on an absorbent paper.

Serve with sauce.