Chicken Stew with Vegetables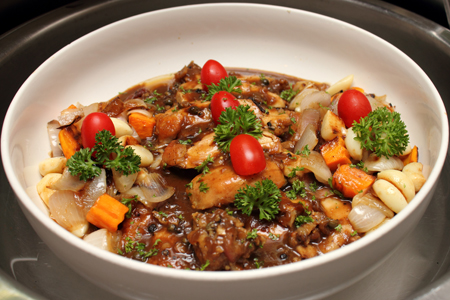 Ingredients
1 kilo chicken cut into small pieces
6 cups water
2 small potato, quartered
1 head garlic finely crushed
2 carrots, thick sliced
2 tablespoons butter
A bunch of pechay/bochoy
1 small onion, quartered
1 chorizo de Bilbao or pepperoni
½ cup crushed inion
1/4 pound green beans salt to taste
4 pcs ripe banana (saba), cut into pieces
8 peppercorns
Preparation
Simmer chicken in water until tender. Set aside broth.

Boil potato and carrots in beef broth and set aside.

In a large saucepan, saute' garlic and crushed onion in butter.

Add beef, chorizo or pepperoni, broth, green beans, pechay and ripe banana.

Also add quartered onion and peppercorns. Simmer until vegetables are done.

Add salt to taste. When ready to serve, garnish with potato and carrots.