Chocolate chip cookies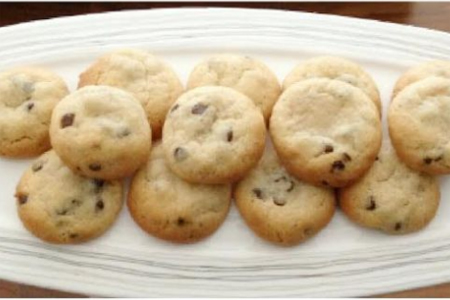 Ingredients
All Purpose Flour: 1 and 1/2 cup
Unsalted Butter (at room temperature): 4 oz
Caster Sugar: 3/4 cup
Egg: 1
Baking Powder: 1/4 tsp
Bicarbonate Soda: 1/2 tsp
Vanilla Essence: 1 tsp
Salt: 1/4 tsp
Chocolate Chips: 1 cup
Preparation
Pre-heat your oven to 180 degrees Celsius and line your baking tray with parchment paper.

In a bowl, beat together the unsalted butter and caster sugar until it forms a creamy mixture.

Add the egg followed by vanilla essence and beat again until all ingredients are well-combined.

In a dry bowl, sift together the all purpose flour, salt, baking powder, and bicarbonate soda. Mix the chocolate chips in the flour.

Add the flour to the batter and mix until the batter starts to form a dough.

Scoop out your cookies on your baking tray leaving space between each one as the cookies will spread while baking.

Bake the cookies in your pre-heated oven at 180 degrees Celsius until the edges start to turn golden brown.

Allow the cookies to cool on the baking tray for 5 minutes and then transfer them to your wire rack for cooling. The cookies will appear soft when out of the oven but will harden during the cooling process.
Cooks Note
The Bakealogue is all about sharing baking experiences .. whether it's recipes, books, tutorials, gadgets or reviews ... it's all about baking!
www.thebakealogue.wordpress.com