Cinnamon roll scones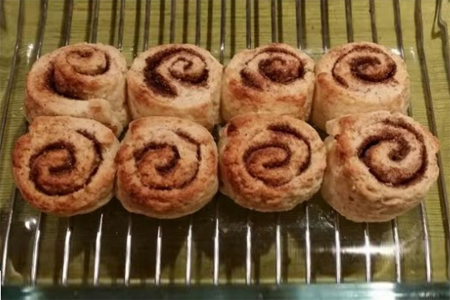 Ingredients
All Purpose Flour: 2 cups (260 grams)
Unsalted Butter (cold and cut in cubes): 85 grams
Caster Sugar: 1 tbsp
Baking Powder: 1 tsp
Bicarbonate Soda: 1/2 tsp
Salt: 1/4 tsp
Buttermilk: apprximately 1 cup (may take less)
<strong>For the filling:</strong>
Unsalted Butter (at room temperature): 2 tbsp
Cinnamon Powder: 3 tsp
Caster Sugar: 4- 5 tbsp
Preparation
Pre-heat your oven to 200 degrees Celsius and have your baking tray ready lined with parchment paper.

In a bowl, mix together the dry ingredients i.e.. all purpose flour, caster sugar, baking powder and bicarbonate soda.

Add the cold unsalted butter and blend into the flour mixture until it resembles course crumbs. You can do this step in your food processor or simply use your hands.

Add the buttermilk (if you do not have buttermilk just combine 1 tbsp vinegar or lemon juice in 1 cup of whole milk and let it stand for 5 minutes) to the flour mixture a little at a time until it starts to form a dough. You may or may not need the entire 1 cup of buttermilk for this.

Lightly flour your kitchen counter. Roll out the dough until it forms a 8 x 11 inch rectangle.

With the help of a pastry brush, spread the 2tbsp of butter on top of the dough.

Combine the cinnamon powder and caster sugar in a bowl and mix well. Sprinkle all over the dough.

Gently roll the dough to form a log. Cut the log into 8 equal pieces. Place these in your baking dish.

Brush the top of each scone with a little milk or cream.

Bake the scones in your pre-heated oven at 200 degrees Celsius until a skewer inserted in the centre of the scone comes out clean. This takes approximately 20 minutes depending on your oven.

Allow the scones to cool completely before glazing them.
Cooks Note
The Bakealogue is all about sharing baking experiences .. whether it's recipes, books, tutorials, gadgets or reviews ... it's all about baking!
www.thebakealogue.wordpress.com