Easy Crab Cakes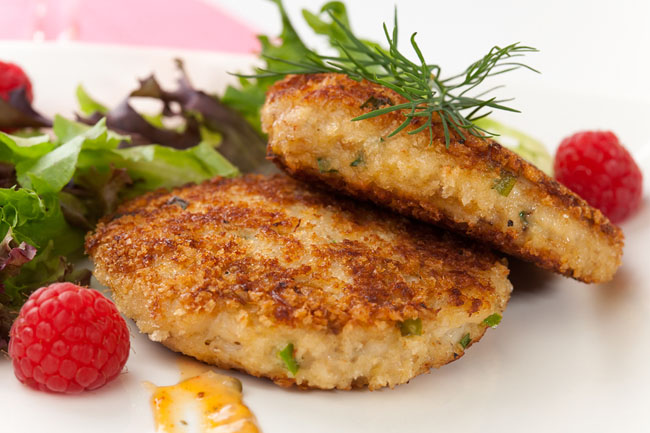 Ingredients
1 cup seasoned bread crumbs, divided
2 green onions, finely chopped
1/4 cup finely chopped sweet red pepper
1 egg, lightly beaten
1/4 cup reduced-fat mayonnaise
1 tablespoon lemon juice
1/2 teaspoon garlic powder
1/8 teaspoon cayenne pepper
2 cans (6 ounces each) crabmeat, drained, flaked and cartilage removed
1 tablespoon butter
Preparation
1. In a large bowl, combine 1/3 cup bread crumbs, green onions, red pepper, egg, mayonnaise, lemon juice, garlic powder and cayenne

fold in crab.

2. Place remaining bread crumbs in a shallow bowl.

3. Divide mixture into eight portions

shape into 2-in. balls.

4. Gently coat in bread crumbs and shape into a 1/2-in.-thick patty.

5. In a large nonstick skillet, heat butter over medium-high heat.

6. Add crab cakes

cook 3-4 minutes on each side or until golden brown.

Yield: 4 servings.