by
Yes Chef Event Catering
Fattoush Salad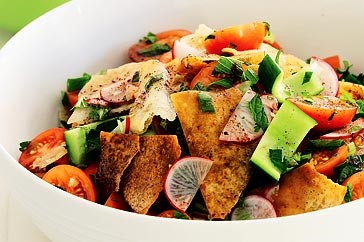 Ingredients
2 cups olive oil
2 pieces Lebanese bread, each cut into 4 pieces
500g cherry tomatoes, halved
2 Lebanese cucumbers, halved lengthways, deseeded, chopped
1 red capsicum, chopped
3 small radish, trimmed, thinly sliced
4 green onions, chopped
1 cup flat-leaf parsley leaves, coarsely chopped
1/2 cup mint leaves, coarsely chopped
1 tablespoon sumac (see note)
Dressing
1/4 cup olive oil
1/2 cup lemon juice
2 teaspoons sumac
Preparation
1.

Make dressing: Combine all ingredients in a screw-top jar. Secure lid. Shake until well combined.

2. Heat oil in a saucepan over medium heat. Cook bread, in 4 batches, turning, for 1 to 2 minutes or until crisp and golden. Transfer to a wire rack to drain.

3. Place tomatoes, cucumbers, capiscum, radish, onions, parsley and mint in a large bowl. Sprinkle with sumac. Drizzle with dressing. Toss gently to combine.

4. Break bread into pieces. Add to salad. Toss gently and serve.
Cooks Note
Notes
Sumac is a cherry-red spice that's dried and ground and has a slightly sour, lime-like taste. You can find it in the spices aisle of your supermarket.