Posted on
25 November 2012
Festive Pavlova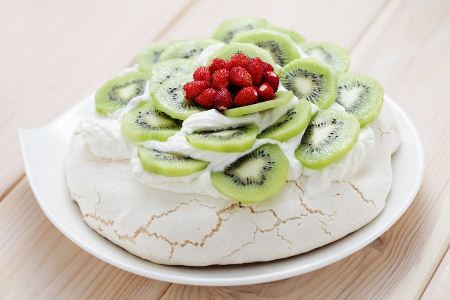 Ingredients
2 tablespoon corn flour
3 cups of caster sugar
2 teaspoon vinegar
1 teaspoon vanilla
4 egg whites
8 tablespoons of boiled water
Topping:
2 cartons double cream
Fruit for topping
Preparation
Preheat the oven to 155 degrees C or 302 F

Mix corn flour with the caster sugar in a bowl

Add the teaspoons of vinegar, vanilla and the seperated egg whites

Mix until just combined and then add the boiling water

Now whisk the mixture until it is very thick... you're better to use an electric whisk as it does take time!

You will know the mixture is ready when it forms stiff peaks- if you're brave tip it upside down to see if it's stiff enough!

Cover a baking tray with baking paper and scoop the mixture into the centre and form a circle shape with it- this should be about 3 inches thick

Cook for 1 and a half hours- it will be slightly chewy inside still

Leave to cool on a baking rack- be careful when moving it- it's ok if it cracks a bit it's not supposed to look perfect!

You can top with whipped cream and whatever kind of fruit you fancy- strawberries, kiwi fruit, bananas, peaches, canned fruit cocktail... let you imagination run away with you!